In DDU-GKY, we are having a lot of tools and ways to minimize the discrepancies and malpractices in the process. The SOP of DDU-GKY is designed in such a way that to ensure this. A type of triangulation and verifications are happening in different levels by different functionaries. Those are the main reasons of high efficiency of the program and success.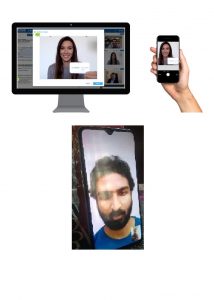 In the process of Instalment release also there are different functionaries involved. Instalments to PIAs do release only after completing all those processes involving PIA OP team, Q-Team, SRLM and CTSA. Placement verifications are an important part in this instalment release. Desk verification of documents and Physical verification of placements of candidates are involved in that. Physical Placement Verifications (PPV) are conducted at three levels by PIA Q-team, SRLM team and CTSA team. In PPV, placements of candidates are verified at the employment location, with prefilled SF 7.2D by recording a video of candidate responses. So the verification officer has to travel to the location of the candidate wherever he/she is. The verification is happens in sample basis and if those 6 (in the case of CTSA) samples (candidates) are in six different locations then the verifying officer has to travel to those 6 locations.
In practical,most of the times candidate may not be available in the employment location as the placement claimed (3 months) by the PIA. There may be many reasons for this. Candidates used to change jobs after 3 months or after due to different reasons. Most of the time, when PIAs apply for instalment and when verification happens candidates will be at a different location or at home!. Also, completing these process in a quick time is essential to reduce the process time of instalment release. Getting instalments in a much shorter time is a help to a good performing PIA. The physical verification is time consuming process as it involves travelling to different locations and availability of candidates at a convenient time.
During the COVID-19 lockdown period, MoRD has notified to conduct the placement verifications through video calls by using new age technology tools. It is to avoid the delay in instalment releases and financial burden of PIAs. It actually helped the functionaries a lot in clearing all the pending instalment files. By that notification, placement verifications are conducted and recorded through different softwares and applications like Skype, Whatsapp, Duo etc. This helped in reducing the 'time for completing' the verification considerably. Verification officer can contact the candidate directly through phone and ask for their convenient time for video call. All those calls,video uploads to the ERP system and report to the SRLM can be complete in a day or two. There is only very less chance of a failure in this process. Issue of network connectivity or lack of a mobile phone with a video call facility are the only two issues that may arise. Network issues are of less percentage in these days of telecom revolution!. Mobile phone with video call facility can be availed by the candidates through friends or relatives, if he/she doesn't have one. In some cases, verifications has to be done for divyaang candidate who has hearing or speech concerns. In those case also, help of a trainer from the PIA can be availed by adding the trainer also in the verification video call.
This new way of use of technology helps in many ways, as it saves the cost of travelling by the officer, delay in completing the process, reduce the chance of failed verifications at candidate locations etc. So its better to add this provision of verification in SOP of DDU-GKY with some more guidelines.