75 villages felicitated for their contribution to DeenDayal Upadhyaya Kaushalya Yojana (DDU-GKY) as part of the Amrit Mahotsav celebrations
Elected Representatives from 75 villages from the states of Uttar Pradesh, Rajasthan, Madhya Pradesh and West Bengal participated in an online felicitation ceremony organised on 19th April, 2022 by the Union Ministry of Rural Development. The felicitation ceremony, chaired by Secretary-RD, Shri Nagendra Nath Sinha, MoRD was organised as part of the year long Amrit Mahotsav campaign and was aimed at recognising the contributions made by the selected States in mobilising highest number of candidates to be trained under the Deen Dayal Upadhyaya Grameen Kaushalya Yojana (DDU-GKY).
45 villages from Uttar Pradesh (UP), 26 villages from Rajasthan, 03 from Madhya Pradesh and 02 from West Bengal were shortlisted on the basis of the highest number of candidates belonging from the said villages undergoing training through the DDU-GKY programme.While interacting with panchayat representatives attending the event, Secretary-RD, Shri Nagendra Nath Sinha said that the responsibility of the Gram Panchayats is not limited to just facilitating the rural electrification, drinking water supply or road construction. They are responsible for the overall development of their villages and rural skill development is an important part of this advancement. Secretary RD also emphasised that skill development training should be provided in the area of interest of youth. If not, they tend to drop out. He urged the participants to make the best use of tools like Kaushal Aapti for the youth to explore and discover their skill interest and get trained. He suggested that Kaushal Aapti be made available for all, irrespective of the scheme. The Secretary urged the Representatives that youth register themselves on Kaushal Panjee, so that mobilisation is effective. He expressed concern about a significant number of youth who are in the NEET (Not in Employment, Education and Training) category; as they would realise much later in lives that time is lost and will find it difficult to get started for a livelihood while others would have settled themselves. He also touched upon the need to take up financial literacy on priority. The need to take support of youth associations and Nehru Yuva Kendra for mobilisation and counselling was also highlighted by the Secretary. The documentation associated with Migration support was also emphasised for example, Swasthya Bima Yojana, portable ration card, etc. could be facilitated by Gram Panchayats. There are positive outcomes of migration by virtue of exposure, best practices that the migrants can bring in. These can be leveraged through proper planning; this can lead to well being and better partnership between the urban and the rural.
Dr G Narendra Kumar, Director General, NIRDPR addressing the forum mentioned that a skilled youth is a self-reliant youth and when they use their skills to attain sustainable livelihood, it leads to a skilled village, a skilled state and a skilled India; a skilled nation is a self-reliant nation. Therefore, when a youth is educated or skilled in a village, the credit not only goes to the youth, but also their families and the entire ecosystem that supports the cause. The Director General extended his congratulations to all of them and to the 75 village representatives and urged that more and more youth may be encouraged by the ERs and the village community to come forward to get skilled and placed to become a productive force of the country.
Sri Amit Kataria, Joint Secretary (Skills), MoRD also addressed the representatives and emphasised that the village community as a whole and PRIs play a major role in making the Rural Development schemes reach the beneficiaries. This is an opportunity to congratulate them for their efforts. As the Hon'ble Prime Minister Shri Narendra Modi mentioned, it is the efforts of the silent work of the citizenry at the ground level that has led the country this far to be able to celebrate 75 years of independence. As far skilling the youth and DDU-GKY is concerned, the oint Secretary mentioned that there is a great role played by the community members like village elders, women and others from the stage of mobilisation of youth to tracking the placed youth. The Joint Secretary also urged that the candidates who have dropped out from training may also be encouraged to complete the training.
During the interaction of Secretary RD with the Elected Representatives, Ms Manorama, a Pradhan from one of the felicitated villages in Bihar interacted with Secretary RD and informed that she had also taken training in DDU-GKY quite a few years ago that she would certainly do her best to encourage youth to get trained under DDU-GKY.
1. Madhya Pradesh

Elected Representatives from the villages of Madhya Pradesh receiving the award
2. West Bengal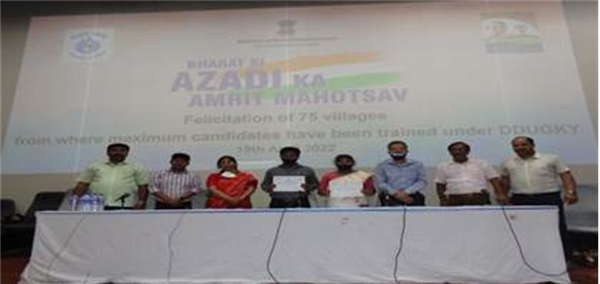 Elected Representatives from the villages of West Bengal receiving the award
3. Rajasthan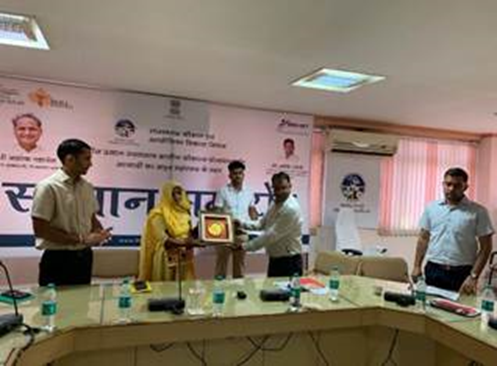 Elected Representatives from the villages of Rajasthan receiving the award
Honorable Guests at the event: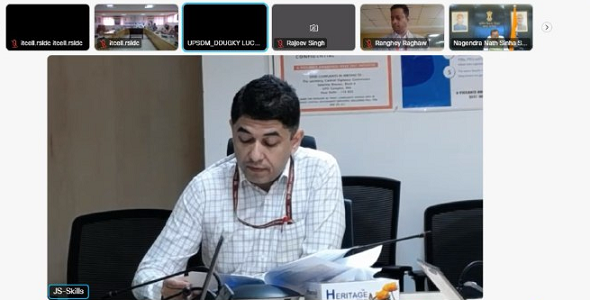 Joint Secretary (Skills), Shri Amit Kataria, IAS, MoRD addressing the participants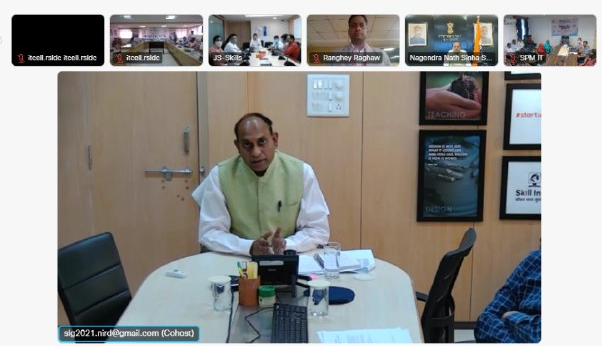 Director General of NIRDPR Dr G Narendra Kumar, IAS addressing the participants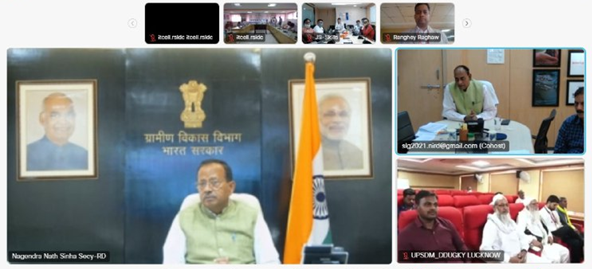 Secretary Rural Development, MoRD, Shri Nagendra Nath Sinha, IAS, interacting with representatives from UP along with Director General, NIRDPR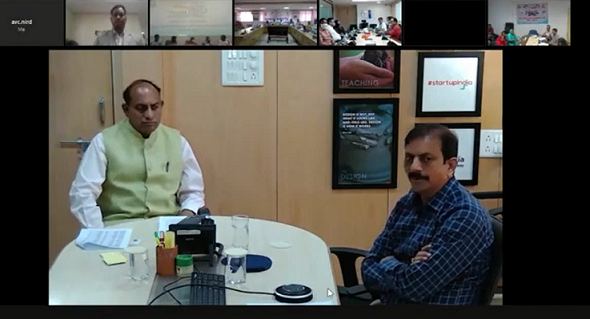 Director General NIRDPR Dr G Narendra Kumar and Executive Director DDU-GKY Shri K V Satyanarayana at the online event
Watch the Event video here: https://youtu.be/7sP0PodSwzE
---
AI tool developed by NIRDPR's Kaushal Bharat team and Data & Insights Unit, MoRD
An AI tool has been developed by NIRDPR's Kaushal Bharat team and Data & Insights Unit, MoRD. The AI tool will ease the verification of placements for the DDU-GKY scheme whose ERP system is currently being developed by NIRDPR. The new feature will assist PIAs and SRLMs reduce the processing and verification time in placement verifications by flagging errors in the documents and issuing warnings before the document is uploaded.
The system combines the OCR technology and state-of-the-art AI algorithms to process all forms of printed documents uploaded in Kaushal Bharat as placement proofs and flag common uploading errors, thereby helping with reduction of human errors. It is hoped that the new feature will also help with minimising the overall turnaround time in the placement verification process and thus faster instalment releases to PIAs.
The feature was tested and integrated with Kaushal Bharat MIS by the NIRD technical team. The feature will be pilot tested for a month before its roll out in the production and showing alerts to live users.
---
2nd Train the Trainer Programme on NSQF aligned skill qualifications of Pest Management Sector
DDU-GKY Resource Cell, NIRDPR organized "Train the Trainer" programme on "General Pest Management Supervisors" and "General Pest Management Managers" from 18th to 23rd April at NIRD Campus. 6 days of intensive ToT programme covered various practice-oriented skill development sessions. Participants from the industry acquired hands-on experience in exploring various supervisory and managerial skills throughout the programme.
Executive Director of DDU-GKY Resource Cell Shri K.V.Satyanarayana inaugurated the Training programme. Training and Development Director Dr.Sandhya Gopakumaran welcomed the group. Director- HR and Admin Mr. Satish Kumar, Asst Director- Skill Innovation Mr.Surajit Sikdar were also present. The 6 day sessions were led by the Master Trainers.
There was significant competency development achieved by conducting field inspection for various pests. Skill Transfer competency was assessed through their individual train back presentations. In the Managerial Training segment, there were online lecture series organized with Experts from Pest Management Industry. They presented on various topics on Human Resource Management, Operations Management and Marketing along with case studies.
The Training programme enhanced participants' training skills and cognize the effects of actions taken. The training materials are designed to get up to speed with modern pest management techniques and aid to meet training requirements.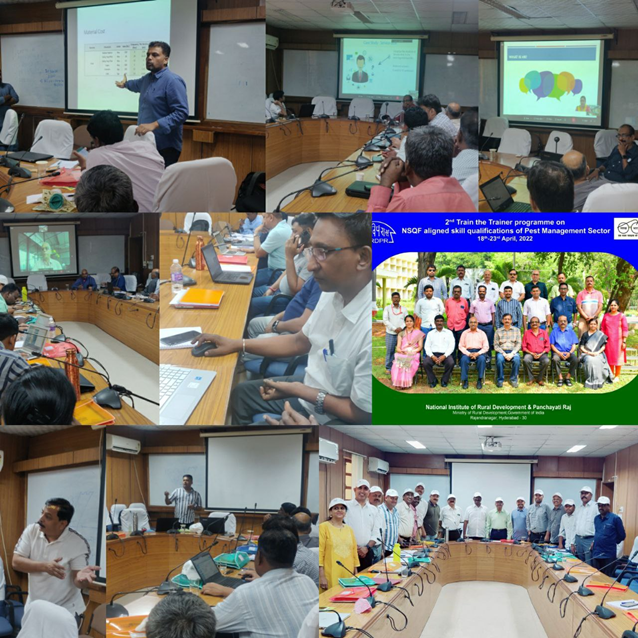 ---
Renewal of Master Trainer Engagement Workshop on Pest Management Skill Qualifications
An Online workshop on Renewal of Master Trainer Engagement on Pest Management Skill Qualifications was organized by DDU-GKY Resource Cell on 25th and 26th April 2022. The basic objective of conducting this programme was to renew the Master Trainer engagement in associating with Training related activities and ensuring the participation to the full potential by introducing the new performance management framework for them.
Executive Director, Shri K.V. Satyanaraya inaugurated the workshop. Mr. Prakash Sasidharan, President IPCA graced the event by extending IPCA's support in the pest management initiatives undertaken by NIRD&PR. Progress report was presented during the workshop, with respect to the activities conducted and milestone achieved in pest management skill training. Standard operating procedures for continuous revision and development of Training Material were presented during the session. For effective implementation of skill training and to match the need of pest management industry, it is imperative to obtain technical inputs from all stakeholders involved. There were intensive discussion throughout the 2 days of workshop and analysis of inputs from the Master Trainers who are specialized in the core domain. Updated version of the Qualification pack was also presented in detail. The two days online programme ended with a post evaluation of their level of engagement which indeed was a great learning experience for all of them.
Director Training and Development, Dr. Sandhya Gopakumaran welcomed the group and moderated the event, Asst. Director, Skill Innovation Mr. Surajit Sikdar, Mission Manager, Training & Development Ms.Neetha M S delivered the sessions.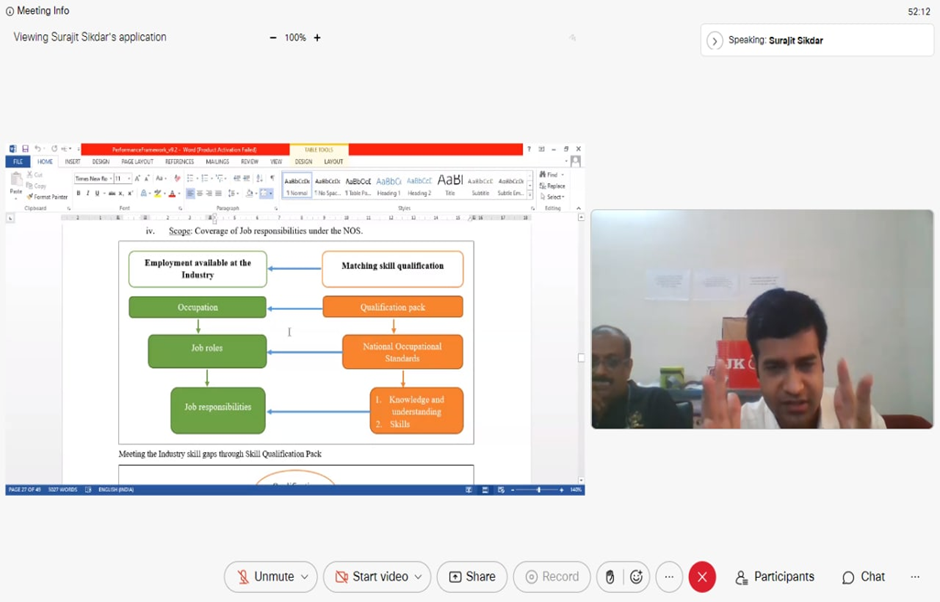 ---
Multi-Dimensional Approaches cum Strategic Workshop on Personal Advancement and Career Enhancement (P.A.C.E.) at Ranchi, Jharkhand
The Jharkhand SRLM organised a two-day workshop with the stakeholders of DDU-GKY and academic institutions in order to frame a multi-dimensional approach and strategy to roll out PACE as well as to offer career opportunities in DDU-GKY for fresh graduates and post graduates from disciplines such as Social Sciences and Humanities. Officials from MoRD, GAP Inc., NIRDPR, SRLMs of Bihar and Chhattisgarh, senior representatives from PIAs, soft skill trainers, were present at the workshop. MoRD officials and GAP Inc. presented the features of PACE programme and obtained feedback on the modules based on the experience of its roll out. NIRDPR representatives highlighted the importance of counselling the youth by adopting scientific methods and also the use of tools like Kaushal Aapti which are built along those lines. Professional skilled/trained personnel are also required to carry out counselling for better outcomes for DDU-GKY and for this states may onboard a pool of professional counsellors whose services can be leveraged not only by SRLMs, but also PIAs.
---
Orientation cum training of District Programme Managers and District Managers (Skills) on DDU-GKY and Roshni at Ranchi, Jharkhand
Representatives of MoRD addressed the DPMs and DMs of Jharkhand at the orientation-cum-training organised by JSLPS on 13 April 2022. This was followed by interactive training session facilitated by Mr Surajit Sikdar, Asst Director, DDU-GKY Resource Cell, NIRDPR on customised approaches to mobilisation.
---
Review of Himayat Projects by the Chief Operating Officer – Himayat Mission Management Unit
As a part of Quaterly Review Meetings , Himayat projects for newly commenced PIAs werestrictlyreviewed by Chief Operating Officer via virtual meetings on 11th April and 25th April 2022. The projects were reviewed with Project Functionarries/ Directors of respective PIAs on the basis of commencement vs Training centre capacity, Non-compliances observed in training centres as raised by various inspections conducted by HMMU, TSA(NABCONS) and CTSA(NIRDPR) and their timely closures on Kaushal Bharat, Timely and Accurate Updations of batches, commencements , candidate details and documents etc.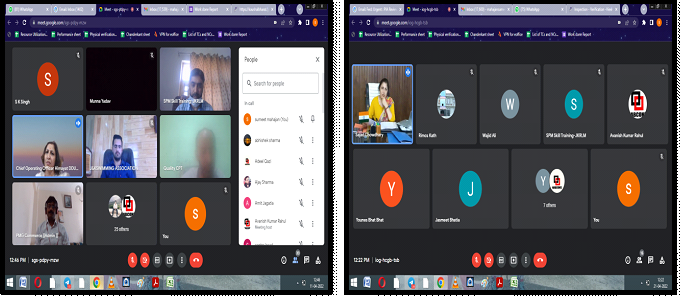 ---
Initiatives for Industrial Placement Convergence in Himayat
Comm/ Secretary RDD & PR, Govt of J&K organised meetings with Industry Association of Zone "A" districts of J&K where there is sizeable industry presence for local Placements in DDUGKY- Himayat Programme.
These meetings were convened in the office of respective District Development Commissioners of the districts of Jammu, Samba and Kathua in collaboration with Department of Industries and Commerce. The Chief Operating Officer-HMMU, JKRLM chaired the meetings in person along with SPMs, officers of TSA and NIRDPR.
These initiatives were taken by HMMU to bring in local industrial placements for Himayat trained candidates keeping in view possibilities of better retentions.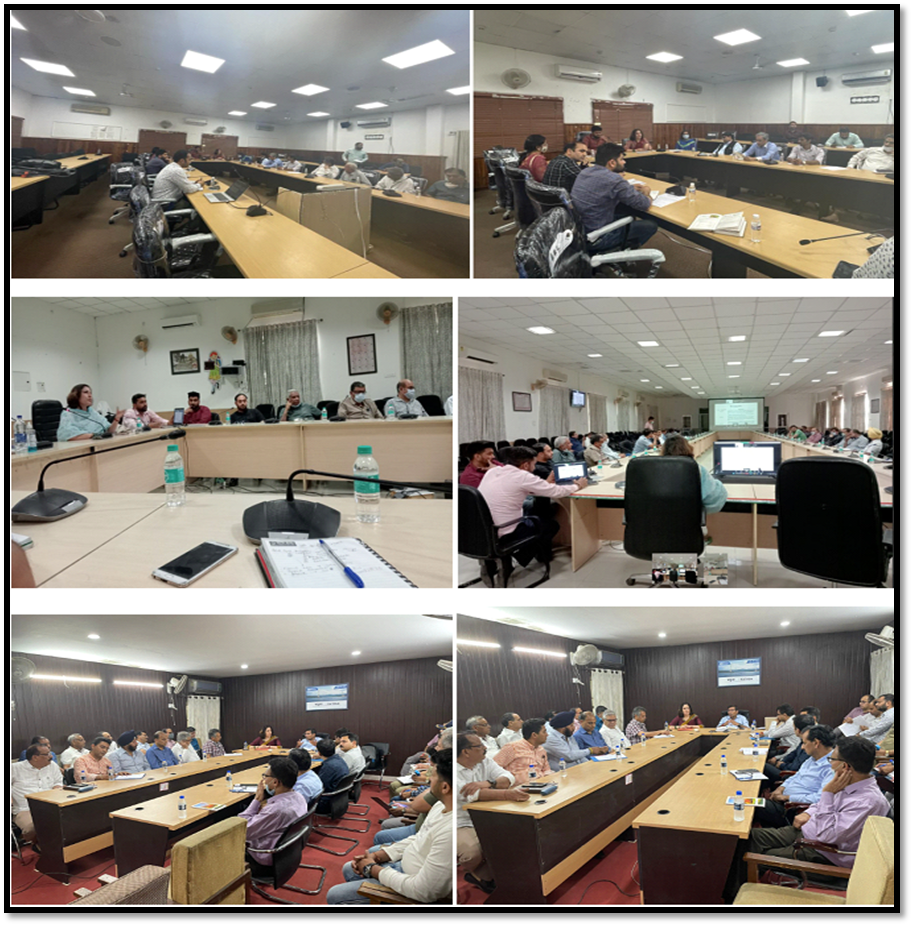 ---
Exposure Visit for Food & Beverage Trainees by Learnet Skills, Jammu
Exposure visit was conducted for trainees enrolled in domain Food and Beverage Service -Steward in Hotel Country Inn by Radisson by PIA M/S Learnet Skills .The trainees are getting trained in non-residential training centre located at Kunjawani, Jammu. About 30 candidates were taken for the visit in two slots by Domain trainer Mr. Yawar. The trainees were exposed to various gamuts of Hotel industry like Front office, Banquets, Housekeeping, Room service, Billing , Parking and other facilities.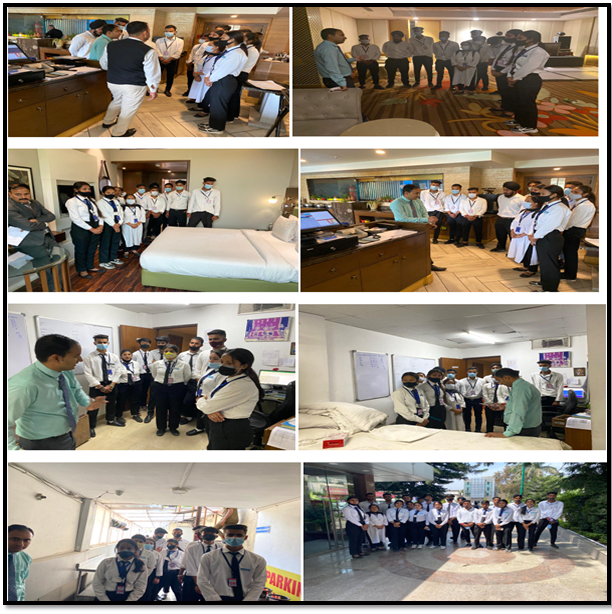 ---
Baisakhi Celebrations @ Training centre of PIA- Ultimate Energy, JNK
Baisakhi marks the first day of the month of Vaisakh and is traditionally celebrated annually on 13 April as a celebration of spring harvest primarily in Northern India. A total of 65 candidates participated in various activities organized on the occasion of Baisakhi at Himayat Training Centre (residential) of PIA Ultimate Energy located at Jammu. Candidates from various backgrounds and caste celebrated the festival of Baisakhi with great enthusiasm and a warm heart.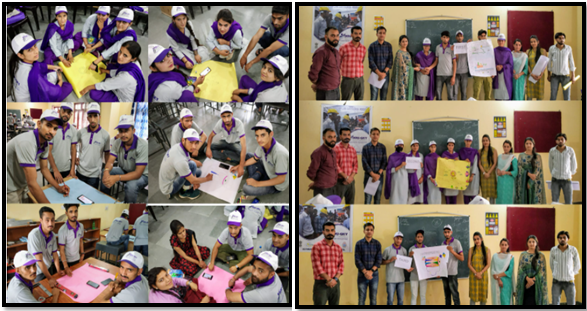 ---
Normal Deliveries conducted by Himayat candidates
Normal Deliveries conducted by Himayat trained and placed candidates via PIA Apollo Medskills Pvt Limited in recent months. These deliveries were conducted in 108 (Advance) Medical Ambulances. These candidates were trained in domain in Emergency Medical Technician in residential training centre and were placed majorily in Employer BVG India Ltd. The trained candidates belong to far flung districts like Doda, Reasi, Ramban, Kishtwar, and Poonch of Union Territory of Jammu and Kashmir and were placed in remote areas either in home districts or majorly in different districts.
---
DDUGKY Stall at #NammaSanjeeviniSARAS
During 8th April 2022 to 19th April 2022, a national level SARAS Mela was organized by Karnataka SRLM in National College Grounds, Bangalore. Event was inaugurated by Honorable Chief Minister of the State, Mr. BasavarajBommaiwhich had a total of 300 stalls representing the products made by SHG women entrepreneurs across the country. Whereas, DDUGKY earned a stall for promoting this placement linked skilling program to visitors.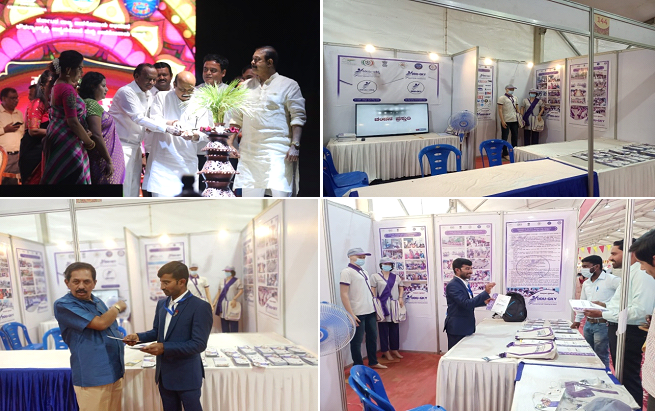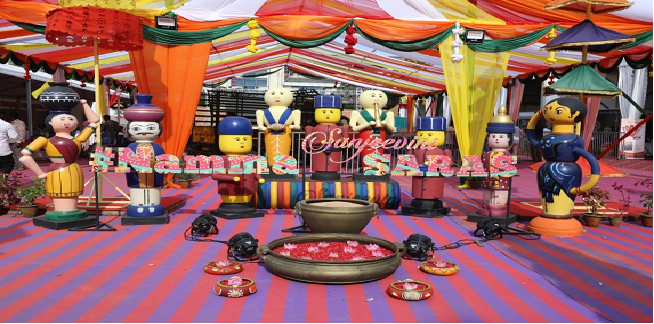 ---
F & B Service Steward cum Front Office Associate
Institutional Visit
KPM TRIPENTA, Calicut is a hotel situated 2 Km away from Calicut town, offers accommodation with a restaurant, free private parking, a fitness centre and a terrace. The institution started functioning at Calicut in the year of 2019. They have 5 hotels in Calicut, Palakkad and Thrissur districts of Kerala, with 108 staff in KPM Tripenta, Calicut. 51 of our Food & Beverages Service Steward cum Front Office Associate and 5 our staffs from MIMHANS DDU- GKY visited the institution. The induction classes by the experts (General Manager, HR, Housekeeping Manager) for the trainees were insightful for DDU-GKY trainees. The trainees got an opportunity to visit various departments in the hotel such as HR, front office, restaurant, bakery, guest care, room services, housekeeping, kitchen service area, etc. and the interaction with the respective staffs helped them to gain more practical knowledge in the various departments they visited.
Our prime intend to conduct an institutional visit is to go beyond class room learning, the practical visit contributes a lot in holistic skill development. Visit at the Institution lets the student trainees to gain knowledge practically through the interactions, working methods and employment practices. Moreover it gives an exposure from academic point of view. This has paved the way for the student trainees to understand that through education and hard work, opportunities for career success are available to them, additionally our Tourism & Hospitality trainees found the visit particularly meaningful for their future employment phase.

---
New E-Learning Materials available on eGramPrashikshan
Video-based micro e-learning modules on Hospitality for DDU-GKY candidates
The e-learning courses of "Food and Beverage Service Steward" with Practical Sessions are available to obtain deep technical insights, a feel of real workplace, skills and attitude required at workplace.
DDU-GKY students can access the videos by logging on to gramswaraj.nirdpr.in.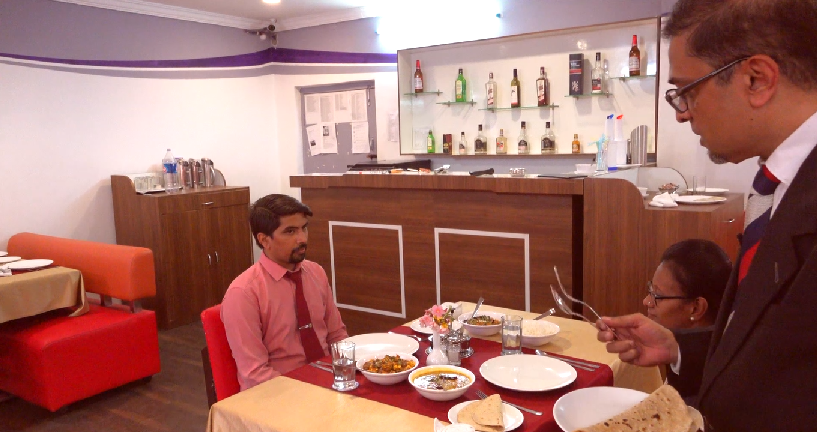 Modus Operandi of Financial Fraudsters
Raju and the Forty Thieves: As a part of the Reserve Bank of India's customer awareness initiatives, in July 2021 the RBI had published a booklet "Be(A)ware" on the modus operandi of financial fraudsters. Encouraged by the positive response received from members of the public as well as different institutions, the RBI took forward the idea of financial education, to be more accessible to those who have just begun their journey into digital financial world and are not so well-versed with the nuances of online financial transactions. This includes people from different ages and education levels such as school children, young adults, semi-literates and senior citizens, irrespective of whether they live in urban, rural or semi urban areas. As per the RBI, continuing the "Be(A)ware series, this booklet "Raju and the Forty Thieves" is a manifestation of their efforts. The booklet is an easily understandable pictorial depiction of incidents happening around us and helps us to learn how to keep hard-earned money and ourselves safe from fraudsters, As the name suggests, "Raju and the Forty Thieves" contains forty such stories providing glimpses of fraudulent events being reported to us and provides simple tips about DOs and DON'Ts. Raju is a typical gullible citizen, and, in these stories, he appears in different characters, some time as a senior citizen, some time as a farmer, sometimes as a happy-go-lucky guy, etc., although with same curly hair always to identify which different walks of life. Let us make ourselves aware of such modus operandi used by fraudsters and educate those around us to be aware of such financial frauds.
NIRDPR has placed this booklet in the DDU-GKY section of e-GramPrashikshan the LMS of NIRDPR so that DDU-GKY candidates can benefit from the same.
---
HARYANA: Offer letters distributed to the DDU-GKY candidates
Offer letters were distributed to the DDU-GKY candidates of M/s Sintel Infotech Pvt. Ltd. by Ch. Krishan Pal Gurjar, Honourable Union Minister of state for Heavy Industries and Member of the Lok Sabha, during an event organized on 24th April 2022 in Faridabad, Haryana. The event was also shared through social media handle of the honourable Minister.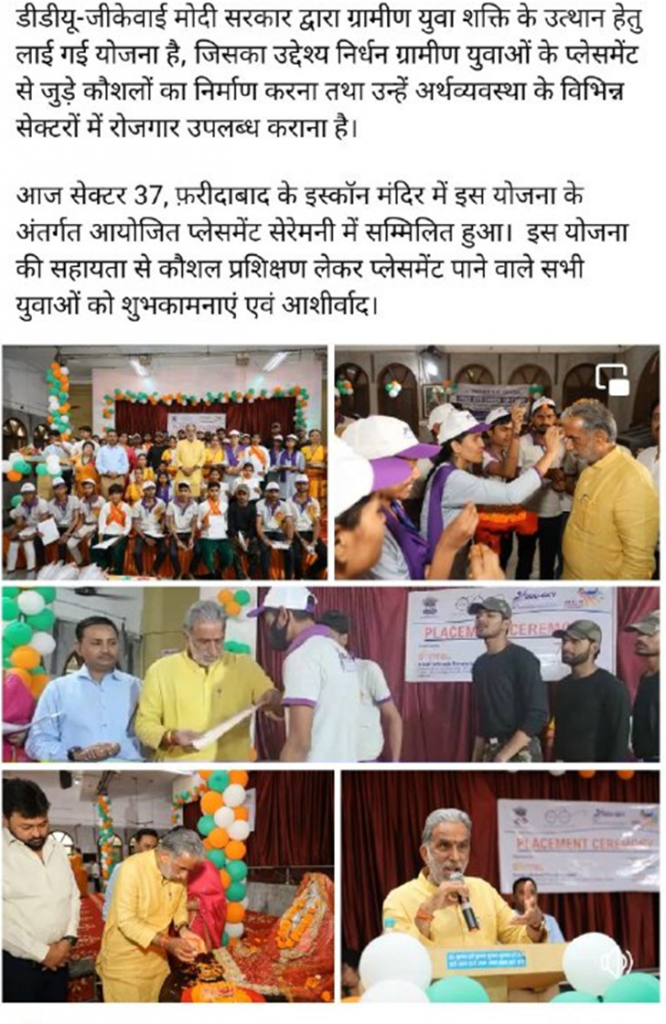 ---
SUCCESS STORIES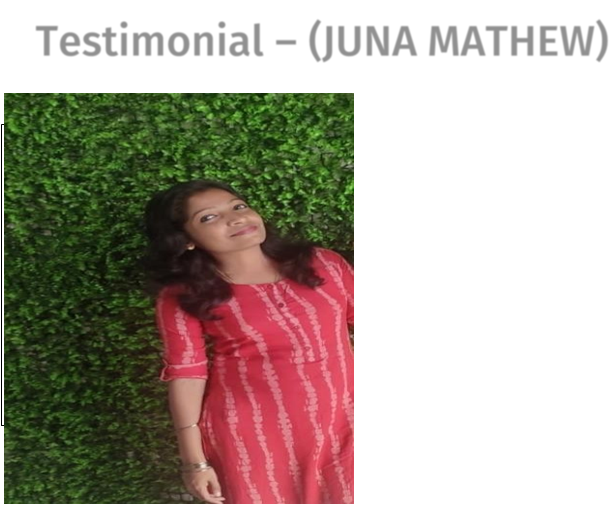 Name: Ms. Juna Mathew
Place: Kottayam Address: Kolamala House, Kangazha,Kanjirappara, Kottayam
Training trade & PIA: Junior Software Developer, OrisysIndia Consultancy Services LLP
Current Employer: OrisysIndia Consultancy Services LLP
Job (career progression): Continuing in OrisysIndia Salary:15000/Month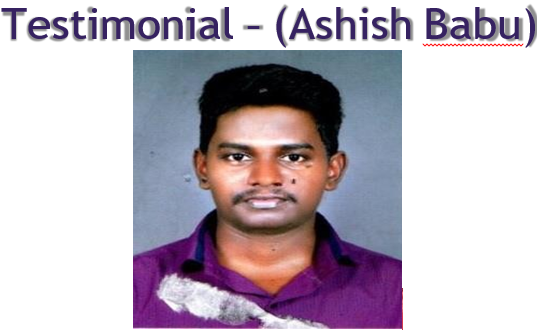 Name: Mr Ashish Babu
Place: Kottayam
Address:Pallikkunnel,Ru bber Board,Puthuppally
P.O Kottayam
Training trade & PIA: Junior Software Developer, OrisysIndia Consultancy Services LLP
Current Employer: Daywon Technlogies,kochi
Job (career progression)
:Daywon Technlogies,kochi Salary:20000/Month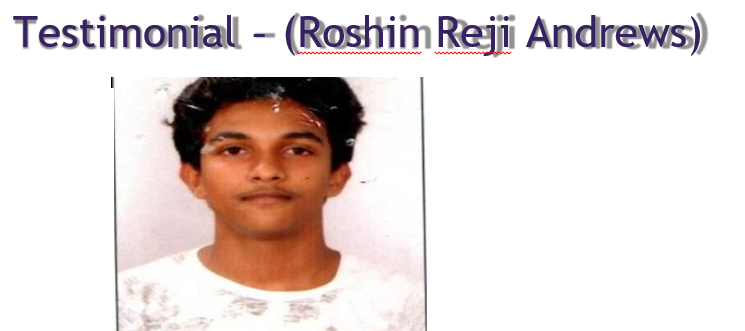 Name:Roshin Reji Andrews
Place: Kottayam Address:Kazhunnuvalat hu(h), Lakkattoor P.O,Kottayam, Pincode: 686502, Kerala Training trade & PIA: Junior Software Developer, OrisysIndia Consultancy Services LLP
Current Employer:Thoughtline Technologies,Trivandru m
Job (career progression): Thoughtline Technologies Salary:23400/Month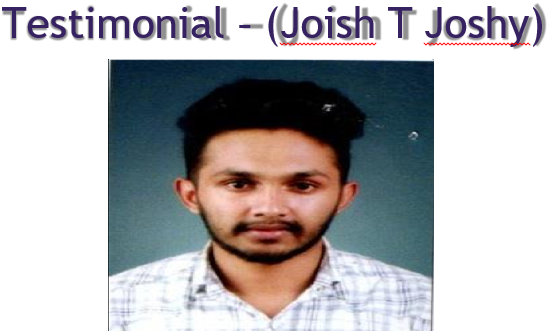 Name: Mr Joish T Joshy
Place: Kottayam
Address:Tharappel, Melampara P.O, Chittanappara, Pincode: 686578, Kottayam, Kerala
Training trade & PIA: Junior Software Developer, OrisysIndia Consultancy Services LLP
Current Employer:TCS Job (career progression):yes/TCS ,Banglore Salary:16096/Month
---
DDUGKY-Training Team: Training conducted for the month of APRIL 2022
SI.No
Training Title
1
Train the Trainer programme on NSQF aligned skill qualifications of Pest Management Sector-GPM Supervisor
2
ToT on GPM Manager – Pest Management
3
Master Trainer Renewal Workshop – Pest Management
4
Whats new in KB –
1.Placement process
2.Excel upload of Legacy Candidates
3. Assessment Module
4. Revised PPWS
5. Placement continue for Covid lockdown period
5
Inspection Module (Web & APP)
6
Kaushal Bharat Refresher Program
7
Inspection Module (Web & APP)
8
What's new in KB –
1.Placement process
2.Excel upload of Legacy Candidates
3. Assessment Module
4. Revised PPWS
5. Placement continue for Covid lockdown period
9
What's new in KB –
1.Placement process
2.Excel upload of Legacy Candidates
3. Assessment Module
4. Revised PPWS
5. Placement continue for Covid lockdown period
10
Training on Project Closure
11
Induction on DDU-GKY Implementation for J&K SRLM and Tripura PIAs
12
Training on Default Management process
13
Training Quality Management
14
Training on DD & Inspection
15
Training on Financial Procedures
---