Kaushal Bharat Rollout: Sailing through the Pandemic
'I can't change the direction of the wind, but I can adjust my sails to always reach my destination' ~ Jimmy Dean.
When COVID-19 suddenly had brought the entire world to a halt, some people and organizations found their own creative ways to rise above the adversities. This also holds true with the DDU-GKY MIS team all through this pandemic period. Despite being constrained by the frequent lockdowns and the consequent restrictions in office, our team was unstoppable and leveraged the IT connectivity to deliver more than it could otherwise have delivered. In the process we have covered lot more swathes of the prospective tasks on our hand. But then the whole MIS team during this period focused primarily on starting with what is necessary i.e. Capacity Building, then on what is possible i.e. Strengthening the Helpdesk System. Suddenly we realized we are doing what was seeming to be impossible in such times i.e. Transforming Kaushal Bharat in to Enterprise Scale.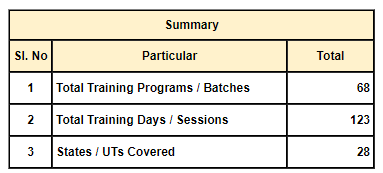 Capacity Building: Kaushal Bharat was rolled out in March 2020 and we originally planned to conduct the training sessions live in the respective states which was deferred with the onset of pandemic. Building the capacity of the stakeholders was of utmost importance, so to keep the ball rolling, we changed the approach to inform the states of the online session. Ever since, DDU-GKY MIS team has conducted training session on Kaushal Bharat to the key stakeholders across the country till date. Thanks to the wider availability of the internet and all the states who agreed to accept the change, stakeholders could be trained within comforts of their homes. It is not just the sessions but we also created online content for help like video tutorials, reading materials and pre-recorded sessions.
Sessions were made interactive and participatory by resolving all the queries of the participants on one to one bases to give the feel of live sessions.
Helpdesk: As the system was new to all it was inevitable to face issues, questions and errors but we overcame the situation by strengthening our helpdesk system by forming a robust Tech Support team of four members dedicated to the queries of Kaushal Bharat only. Specific states were allotted to each of the tech support member, state SPOCs were nominated from each state to ensure one to one communication and we further streamlined the process flow of the Helpdesk where the queries could be resolved swiftly and satisfactorily.
Transforming Kaushal Bharat to Enterprise scale: In the DDU-GKY there are disparate IT systems each intended for specific purpose:
Kaushal Permanent Registration Number (PRN)
Kaushal Pragati (MPR)
Kaushal Panjee
Financial Management System (FMS)
Aadhaar Enabled Biometric Attendance System (AEBAS).
Each of the above systems were developed as standalone and had only one commonality, which is that they collect DDU-GKY data. The need of the hour was to have a single IT Platform to make the data less redundant and more reliable and hence it was envisaged by MoRD to integrate these systems. In that direction the requisite interfaces were implemented and verified in an agile mode between different teams across geo-locations with MoRD acting as a cog. Except for the AEBAS which is yet to go production, rest of the systems are mutually integrated with Kaushal Bharat.
In the process we have identified the missing pieces of functionality for successful integration in future so as to bridge the connecting data between the existing systems like FMS and Kaushal Bharat. Since this feature precedes a seamless integration between Kaushal Bharat and FMR in future.
As correctly stated 'Necessity is the Mother of Invention', it won't be wrong if we say that Adversity is the Mother of Innovation too. This pandemic period also helped us innovate, by providing alternative solutions to confirm to Standard Operation Procedures (SOP) processes to work around placement verification through 'Self-Verification of Placed candidates' – In view of the prevailing situation to enable candidates to self-verify from their respective place of work using mobile application. One important achievement by MIS was to move over from Google map service to Map Services offered by NIC in line with Aatmanirbhar Bharat.
All in all, the year 2020 maybe forgettable for many unfortunate reasons but for DDU-GKY MIS team a significant progress was made even under the dark long shadows of COVID-19.
---
Workshop on Kaushal Bharat in Chhattisgarh and Jharkhand
Jharkhand
A three-day workshop orientation on Kaushal Bharat for JSLPS District staff was organised and all modules and verticals of Kaushal Bharat was explained by NIRDPR Technical Team in the gracious presence of dignitaries from MoRD , NIRDPR & JSLPS for onboarding of Project Implementing Agencies (PIAs) of Jharkhand on 'Kaushal Bharat' portal on 17th March 2021 to 19th March 2021.
The workshop was conducted for PIA Q Team and PIA MIS Heads, in the presence of Sri. Saurav Dubey , Director Skills –MoRD; Sri. Siddhartha Pandey, Head PMA-MoRD; Sri. Samir Goswami, Director-MIS, NIRDPR; Sri. Jeevan Reddy- Asst Director – NIRDPR; Ms. Madhuri Burra, Project Officer, NIRDPR; Sri.Bishnu Charan Parida- Chief Operating Officer-JSLPS; Sri.Hasnain A Warshi- State Program Manager- JSLPS; Sri. Abhinav Bakshi- Program Executive-IT&MIS-JSLPS; Sri.Arvind Prakash Head TSA –JH; Jharkhand TSA Team, Jharkhand CTSA Team, and District Team of JSLPS.
Chhattisgarh
Ministry of Rural Development in coordination with State Rural Livelohood Mission, Chhattisgarh, conducted two-days workshop for Project Implementing Agencies (PIAs) on 'Kaushal Bharat' portal on 9th and 10th March 2021.
MoRD official Mr. Sidharth Pandey stated that it is important for all the PIAs to learn the flow and functionalities of the portal designed and developed by MoRD in collaboration with NIRDPR for effective implementation of the programme. this is another step towards promoting transparency and accountability in the functioning of the programme Shri Samir Goswami, Director MIS, NIRDPR alongwith with Shri B Jeevan Reddy, Shri Naveen Bachu from DDU-GKY, NIRDPR facilitated the workshop.
---
Course of the Month: PFMS e-learning
Public Financial Management System (PFMS) is a financial management platform developed by the office of the Controller General of Accounts, Ministry of Finance in collaboration with the Planning Commission. PFMS leverages a unique interface with the Core Banking System (CBS) of banks, to provide real-time reporting of banking transactions. All financial data captured by the system can therefore be reconciled with system authenticated transactions.
The system has the potential to provide end-to-end, real-time financial reporting based on system authenticated transactions for all projects sanctioned under DDU-GKY.
In order to facilitate quick onboarding and use of PFMS by various stakeholders of DDU-GKY, NIRDPR has developed an eLearning for functionaries of PIAs and SRLMs and has been made available on GRAMSWARAJ eLearning portal.
The self-paced, video-based modules on PFMS for PIAs and SRLMs are available for learning anytime anywhere through gramswaraj.nirdpr.in.
Click here to access PFMS course
---
Round up of the year
1. Training Status
This has been a year of high learning quotient for DDU-GKY stakeholders due to and despite the pandemic. 206 training sessions were delivered virtually to over 6000 participants across 24 states and UTs.
Two new training programmes on MoU signing guidelines and Project Closure was introduced.
Besides, webinars with Sector Skill Councils like Retail, BFSI and PwD on placement opportunities for trained youth were conducted by NIRDPR.
The following materials are available on gramswaraj.nirdpr.in for candidates: Disaster Management, FAME (in multiple languages) on Financial Management Awareness released by RBI
Training content for PIAs on Peer Mobilisation Activity and Illustrated leaflet for reference of SHGs and CRPs for candidate mobilisation have been developed and available on gramswaraj.nirdpr.in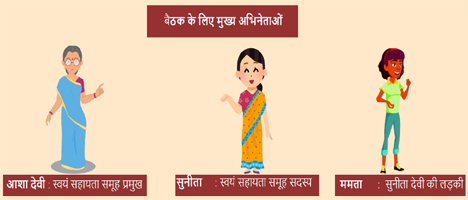 2. P.A.C.E. (Personal Advancement & Career Enhancement)
P.A.C.E. is an innovative curriculum-based learning program created by Gap Inc. to support participatory learning of foundational life skills to help trainers advance in their personal lives. The P.A.C.E. program is comprised of life and technical skills. The technical skill training is focused to support specific job-related needs of the participants. With the objective to have a uniform soft-skill curriculum for DDU-GKY, MoRD piloted the programme in Kerala and Chhattisgarh in 2019. The result being successful, the programme was introduced to the rest of the States through ToTs. NIRDPR developed the e-space for end to end administration of the course on gramswaraj.nirdpr.in for the PIA trainers getting trained.
The first phase of ToT commenced in November, 2020; so far a total of 4 batches have been trained wherein 86 trainers participated. The aim is to be able to create a pool of Master Trainers by P.A.C.E team, so that they can in turn train other trainers of DDU-GKY in a cascading mode. From the 4 batches trained so far, 22 master trainers and 12 potential master trainers have been identified.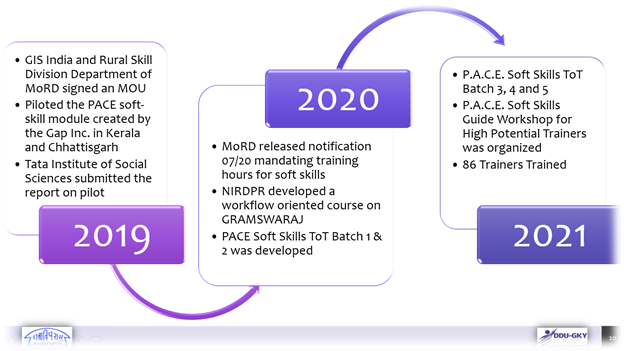 PACE Delivery Status
| | |
| --- | --- |
| | |
| Total planned batches | 5 |
| Total planned number to train | 150 |
| Participating States | 24 |
| Total trainer nominations received | 459 |
| Total batch conducted | 4 |
| Total trained | 86 |
| Silver Certification | 52 |
| Potential Master Trainers | 12 |
| Master Trainers | 22 |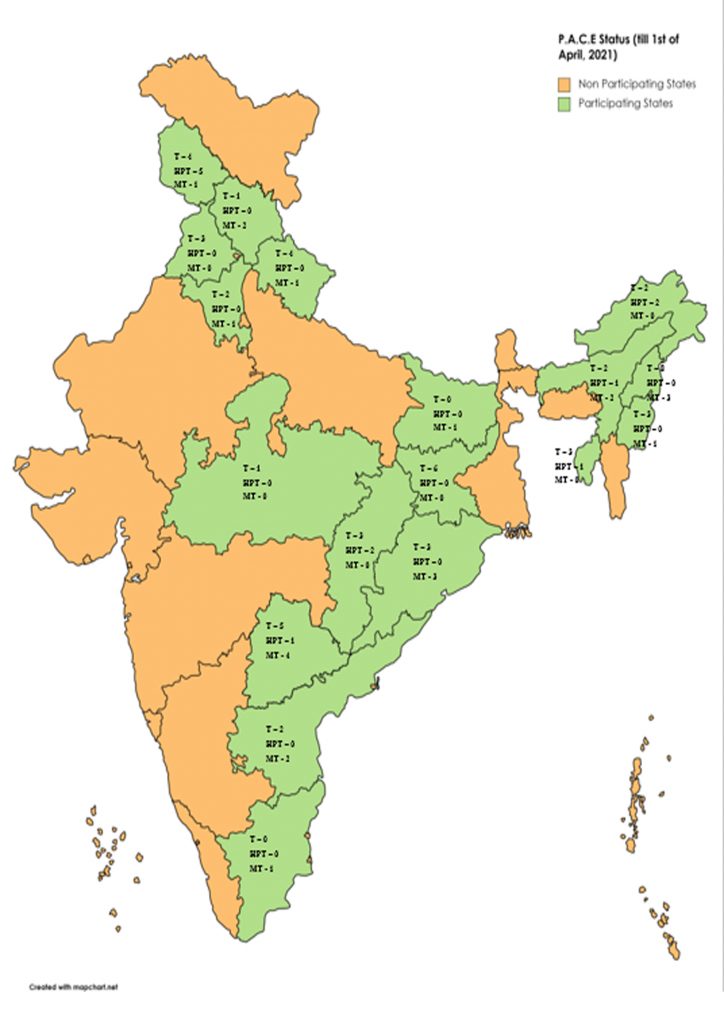 ---
Candidate & Employer of the month
---
---
NIRDPR DDU-GKY represents Himayat at Skill Development Workshop organized by UT Ladakh
Shri Stanzin Rabyang, Project Officer, DDU-GKY NIRDPR representing Himayat spoke at the Skill Development Workshop organized by UT Ladakh on 27 March 2021 and explained the opportunities offered by Himayat.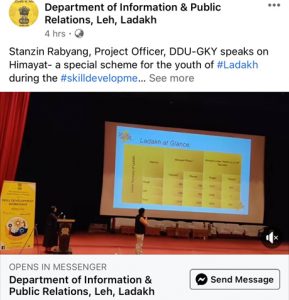 ---
Training Calendar for March 2021
Training for April 2021 has been planned according to Training Needs Identification exercise conducted by DDU-GKY, NIRDPR. For training requirements, SRLMs / PIAs may write to trainingddugky.nird@gov.in
Training calendar can be viewed on http://www.ddugky.info