CEO Conclave 2021: NIRDPR launches Kaushal Aapti App for Rural Youth
On the occasion of Aazadi ka Amrut Mahotsav India@75, National Institute of Rural Development and Panchayati Raj (NIRDPR), Ministry of Rural Development, Government of India, released "Kaushal Aapti", an App for youth to discover their vocational interest and aptitude, at an online Conclave of the CEOs of the State Rural Livelihood Missions held on 09 April 2021.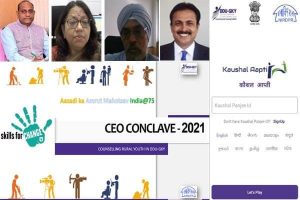 Speaking at the Conclave themed on Rural Youth Counselling, the Director General of NIRDPR, Dr G Narendra Kumar, IAS, pointed out that the youth of rural India prefer to be guided and given choices, rather than advised, to make informed decisions. They like to discover their inherent potential for selecting a vocation. In order to help youth, pursue their choice of vocational skill training, Government of India has offered a bouquet of schemes like Deen Dayal Upadhyaya Grameen Kaushalya Yojana (DDU-GKY). If training and placement of youth under schemes like Deen Dayal Upadhyaya Grameen Kaushalya Yojana (DDU-GKY) should lead to long term employment and sustainable livelihood for our youth, vocational guidance and counselling for them should be prioritised; and technology can enable this, the Director General said.
Unveiling "Kaushal Aapti" at the conclave, Smt Alka Upadhaya, IAS, Addl Secretary, Ministry of Rural Development said that Kaushal Aapti will be a milestone in the implementation of DDU-GKY. The App will enable youth to respond to a series of activities and discover their skill interest and aptitude. It has multiple language feature and will also provide a national level, state-wise and district-wise skill interest inventory of our rural youth. She urged that DDU-GKY and Rural Self Employment Training Institutes (RSETIs) should have call centres for Counselling, in order to make vocational guidance and counselling more accessible and seamless. Special training will be provided to the functionaries of State Rural Livelihood Missions on the implementation of Kaushal Aapti and counselling, Smt Alka Upadhyaya added.
Prof Dr Sibnath Deb, Director of Rajiv Gandhi National Institute of Youth Development, Ministry of Youth Affairs, Government of India in his special address at the Conclave mentioned that trained and skilled counsellors are meagre, therefore counselling should be offered as a career option at the graduation level. Counselling is an ongoing process and does not stop with initiation into a vocation. Further, channels like NCC and other trained youth force can support spreading of awareness about schemes available for youth of Rural India.
Shri Charanjit Singh, Joint Secretary, Rural Livelihoods and Rural Skills, Ministry of Rural Development speaking on the occasion suggested that Rural Self Employment Training Centres dotted across the country should also serve as rural youth counselling centres. Efforts are on to promote avenues for re-skilling and up-skilling of trained DDU-GKY candidates, he added.
Kaushal Aapti was developed inhouse through research, consultations with experts in academics and industry and was tested with end users to improve its functionalities. The Conclave has also paved the way for launching a training programme on "Vocational Guidance and Counselling rural youth" for training the counsellors of Deen Dayal Upadhaya Grameen Kaushalya Yojana (DDU-GKY).
---
2 Years of Kaushal Bharat: The Journey So far & way ahead
Amid the raging pandemic, we would like to acknowledge and place on record our appreciation for the efforts of all key stakeholders concerned on achieving two successful years of Kaushal Bharat implementation.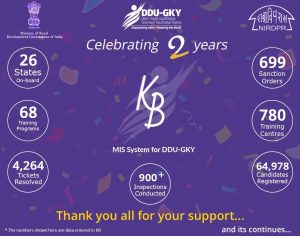 Ministry of Rural Development (MoRD) is committed to transform rural poor youth into an economically independent and globally relevant workforce. Launch of Deen Dayal Upadhyaya Grameen Kaushalya Yojana (DDUGKY) is a significant step in this direction. DDUGKY is the skilling and placement initiative of the Ministry of Rural Development (MoRD), Government of India. The program is implemented across the country which involves MoRD, Central Technical Support Agencies (CTSA), State Rural Livelihood Missions (SRLMs) and Project Implementation Agencies (PIAs).
National Institute of Rural Development & Panchayati Raj (NIRDPR), Hyderabad as a Central Technical Support Agency is assiduous in facilitating the successful implementation of the DDUGKY program. In order to bring transparency, effectiveness and easy access of scheme's benefits to the targeted rural poor youth, the then Director General of NIRDPR Dr WR Reddy with his vision, conceptualised developing an online application adhering to the Guidelines and Standard Operating Procedures (SOP) of DDU-GKY to fulfill the needs of project monitoring and implementation. With the Support and guidance of Dr Reddy, an inhouse team was constituted to start the development of the ERP system for DDU-GKY called 'Kaushal Bharat' (KB). The system was developed with combined efforts of the development team (MIS) and Subject Matter Experts from Monitoring and Evaluation. The task was taken up on a mission mode which was regularly monitored by the Director General and the experts from MoRD.
To fulfill the vision of common/ single IT platform for all DDU-GKY related applications, Kaushal Bharat was successfully integrated with PRN, Kaushal Pragati (MPR System), Appraisal system, Kaushal Panjee Kaushal Aapti, etc. After development, the system was tested by the selected experts from MoRD, SRLMs and PIAs and the system was made robust with their suggestions and guidance. With the continuous support from MoRD in the development of Kaushal Bharat and mobilizing SRLMs for its usage, MoRD notified the rollout of Kaushal Bharat in all States via notification number: 7/2019 dated 10th April, 2019.
During this period, several new modules were added to the system, based on the requirements from MoRD, SRLMs and PIAs. Also, Kaushal Bharat has come up with mobile applications for geo-tagged Training center inspections, placement verifications and Candidate self-placement verification. The customization process is going on to make the KB system more user friendly, robust and effective.
Now Kaushal Bharat (KB) has achieved the milestones of having Single IT Platform for all DDU-GKY projects, which supports bunch of activities like real-time Online Due-diligence of the projects/training centers (TCs), Online TCs Inspections, Placement Verification, Candidate Self-Placement Verification using mobile App, real-time reports and dashboards.
In addition to that, a dedicated 4 member team of Tech support was constituted to coordinate with their States in the smooth functioning of the Kaushal Bharat implementation. Also, an online ticketing system was developed to register the issues / queries from the Kaushal Bharat users. These tickets are addressed by the Tech Support team, Functional experts and Development team. To-date more than 4500 tickets raised by various stakeholders in different states have been resolved by the team.
Although several challenges came in the way during the initial phase of launching of KB system and the very obvious the present situation of pandemic in the past one year, we could achieve desirable milestone listed below: (report as on 26th April, 2021)
29* States have Started using Kaushal Bharat for New as well for Old projects (Creation of new projects and update the old projects in KB)
700 new Sanction orders were created directly in Kaushal Bharat by 20 States
808 new training centers were created by 26 States
2106 new batches were created by 24 States
1093 Training center inspections were conducted in 25 States
68+ training programs / workshops/handholding sessions were conducted for 29 States. The stake holders include CTSA / SRLMs / TSAs / PIAs. These include face to face and virtual sessions.
A total of 4500+ tickets were resolved
Mobile Apps for Training Centre inspection, Placement verification and Candidate self-placement verification
The data above demonstrates the successful acceptance and wider use of Kaushal Bharat system among its users all across the nation. Also, it motivates the team to excel in their efforts in order to create more user friendly, efficient, effective & transparent ecosystem. We believe and are dedicated to providing best quality value and service to facilitate the achievement of MORD's vision of "Transforming rural poor youth in to an economically independent & globally relevant workforce ".
Once again, on the Completion of 2 successful years of the rollout, the Kaushal Bharat team would like to thank each and every one for their support.
---
IT-ITeS Domain ToT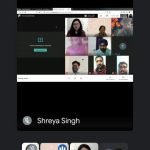 DDU-GKY NIRDPR and J&K Rural Livelihood Mission collaborated to facilitate Training of Trainers for IT-ITes domain trainers of the Project Implementing Agencies operating in Jammu and Kashmir starting 26 April 2021. A total of nine trainers attended the ToT online which was delivered by IT-ITeS Sector Skill Council.




---
Kaushal Pravesh Induction for Meghalaya PIAs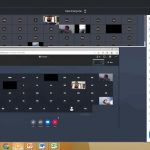 Kaushal Pravesh, Induction for new PIAs was conducted online by DDU-GKY NIRDPR for newly onboarded PIAs of Meghalaya from 27 April 2021. A total of 14 newly onboarded PIAs were trained with 46 participants attended serving in the capacity of Operations Head, Finance Head, Quality Head and MIS Head.



---
Alumini Meet
On the occasion of Azaadi ka Amrut Mahotsav India@75, Jharkhand State Livelihood Promotion Society (JSLPS) & NIRD PR state team with the support of few DDU-GKY Training partners conducted Alumini Meet in the state. Four Alumini meets were conducted with SLC Education Society, Quess Corp Ltd, G.C.S Computer Pvt. Ltd & Learnet Skills Ltd on 9th April'21, 10th April'21 and 11th April'21 respectively. Candidates at various stages of skilling ranging from just completed their training, placed and still continuing employment had shared their experiences of their training centres, work location, challenges they faced during COVID 19 lockdown etc. At the end of every event, external assessment certificate distribution and gifts were distributed to all the Alumini. The entire event was celebrated following the Covid-19 guidelines as per the state protocol.
---
Employer of the month
---
Candidate of the month
---
Training Calendar for May 2021
Training for May 2021 has been planned according to Training Needs Identification exercise conducted by DDU-GKY, NIRDPR. For training requirements, SRLMs / PIAs may write to trainingddugky.nird@gov.in
Training calendar can be viewed on http://www.ddugky.info