Ministry of Rural Development celebrated 'Antyodaya Diwas' with a program "Kaushal Se Kal Badlenge" on 25th September 2020 at 10:30 am. Hon'ble Union Minister of Rural Development, Agricultre and Farmers Welfare and Hon'ble Minister of State for Rural Development Sadhvi Niranjan Jyoti graced the occasion and interacted with the candidates and stakeholders of Deen Dayal Upadhyaya Grameen Kaushalya Yojana (DDU-GKY).
---
Reopening the Training Centres: Guidelines Issued
Guidelines for reopening and functioning of training centres from 21 September 2020, following the COVID protocol was released by Ministry of Rural Development. A meeting was held by MoRD chaired by Ms Leena Johri (Joint Secretary Skills), with the CEOs of SRLMs to review the situation and discuss the guidelines.
---
MoRD conducts webinars and job melas with Sector Skill Councils
In order to strengthen the ties with Sector Skill Councils and to enable better connect with industry partners for enhancing placement opportunities for DDU-GKY candidates, Ministry of Rural Development (Skill Division) conducted a series of webinars with IT-ITeS Sector Skill Council, Logistics Skill Council, and Healthcare Skill Council in August-September 2020. Employers also joined the webinars in which they shared manpower requirements and strategies to hire trained candidates was discussed. Online job melas are in progress with top employers in Logistics sector in collaboration with SRLMs and CTSAs.
More such webinars and job melas are expected to be in the offing to accelerate placements and meet the industry demand.
---
First Virtual Job Fair organized by Himayat Mission Management Unit, JKSRLM in collaboration with TeamLease Services Ltd. at Jammu
Himayat Mission Management Unit (HMMU) in collaboration with TeamLease Services Ltd. organized 'Virtual Job Fair' in Jammu on 28-8-2020 via Google Meet App.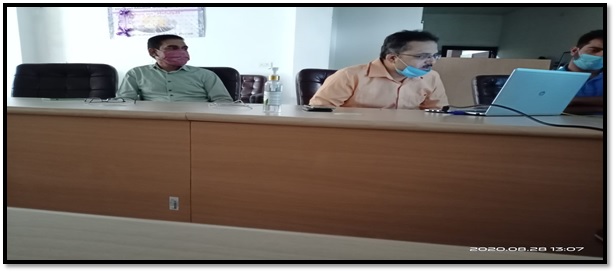 Mr Kapil Sharma, KAS, Chief Operating Officer, Himayat Mission Management Unit welcomed the employers & asked them to engage maximum number of Himayat trainees in their respective companies. Officials from Himayat Mission Management Unit, NIRDPR, NABARD Consultancy Services (NABCONS) also participated. Management of TeamLease Services Ltd Parnay Narang, Bussines Head and Manish Kumar, Cluster Head, Mukhtar Nabi, State Head, Shivanand Patel, National Placement Head TeamLease joined the session.
About 50 candidates participated in the virtual job fair. The employers which participated included Connect Business Solutions Limited (TBSS), Himatsingka Seide Ltd., KPR Mills Ltd.and Foxconn.
---
First Virtual Placement Review organized by Himayat Mission Management Unit, JKSRLM
Himayat Mission Management Unit (HMMU) organized a Virtual Placement Review Meet in Jammu on 27-8-2020 via Zoom App.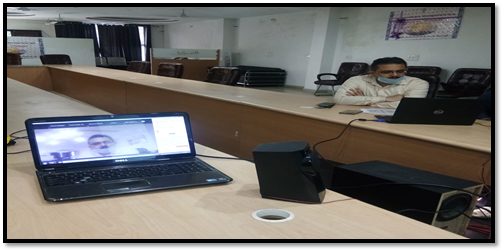 Mr Kapil Sharma, KAS, Chief Operating Officer, Himayat Mission Management Unit took the virtual placement review of the Himayat Projects and instructed the participants to start uploading placement related documents on the portal as per the revised guidelines of MoRD post March 2020. He also informed the participants that more than 500 trainees are still working in this COVID pandemic times in different sectors like Healthcare, ITES-BPO, Retail etc .He urged upon the Project Functionaries to start providing extended placement support to the trainees who either are yet to be placed by them or have left the job in this pandemic time and came back home.
Officials from Himayat Mission Management Unit, NIRDPR, NABARD Consultancy Services (NABCONS) also participated in the virtual meet. About 61 participants in capacity of Project Heads and Placement Heads of different Project Implementing Agencies for Himayat joined in the virtual review meet.
---
DDU-GKY Trainees Working in Pandemic Situation COVID-19 at various Hospitals of India
Glimpses of DDU-GKY trainees working in various Hospitals across India. The images are of SMBT Nashik & Bhagwan Mahavir Cancer and Research Center (BMCRC) Jaipur.
---
Trainer of the Month- Ramya Ramesh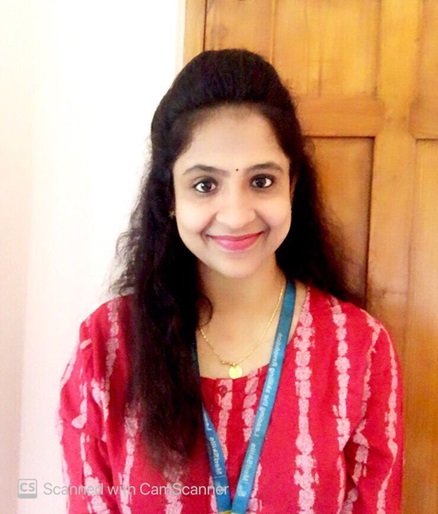 I am Ramya Ramesh, currently working as a Soft Skills & English Language Trainer at Apollo MedSkills, DDU-GKY Project, Hyderabad.
Over the last three years of my association with DDU-GKY Project at Apollo MedSkills, my responsibilities include training students to improve upon their verbal and non-verbal communication skills. This training helps students to communicate in English language, and prepare them with the presentation skills required for their respective profession. As the students will be entering into a professional space immediately after their training, soft skills training sessions enable them to overcome challenges, facilitate positive interactions and problem solving. My training techniques involve ice-breaking sessions, role plays, group discussions, peer learning and feedback which involves active participation of students. We prepare the students in various aspects such as creating their own resume for submitting to employers, which can build confidence to attend the interviews.
I have overall experience of 4 years, as a Soft Skills and Campus Recruitment Trainer for graduates and post graduates students across India. This has helped me to understand and guide the students in a better way. TOT sessions conducted by NIRDPR and Apollo Medskills, have helped me in understanding student psychology better and enhanced my skills for imparting training. A trainer's role is crucial in the life of a student, as they play the role of a mentor, trainer and a motivator. I feel proud to be a part of this noble journey of bringing a positive change in one's life, this always keeps a responsibility on me to do the best.
---
Our Trainers, Our Strength- Efforts of Jyoti Khanna applauded by COO-JKSRLM

My name is Jyoti Khanna. I have done M.Com and B.Ed from Jammu University. I am a resident of Jammu (J&K) and am married. We are 3 members in our family including me. I have been into skilling sector since 2014. Professionally I have served for about 3.5 years as a Soft Skills Trainer in different PIA's and presently working with Brite Neon Signs Pvt. Ltd.
Being a Soft Skill Trainer, I am responsible for training students in soft skills by using innovative teaching techniques and tools like case studies audios/videos, role plays, activities etc. which equip students to successfully face Corporate Interviews.
Due to COVID-19 pandemic situation, as we all are home quarantined so I along with my organization took a step forward to provide online virtual sessions to engage the candidates in meaningful activities. I am also making educational videos from home for students and sharing those with them on their Whatsapp group. As of now I have provided 50-60 online virtual training sessions.
As a Soft Skills Trainer, not only have I enhanced the communication and presentation skills but also kept engaging all the trainees virtually in these pandemic times. Despite having 2G connectivity in our Union Territory, I make sure that all my trainees get connected and are able to interact with me. I myself have learnt some of the most important professional and educational skills to be taught in a classroom or measured on paper. These skills are more crucial to my job and in my overall career.
Till 1st August 2020, I have delivered 9 online virtual sessions. The journey of my growth in DDU-GKY has been very stable and brought huge changes in my personality. The DDU-GKY program is a great skilling and placement initiative by the MoRD, Govt. of India which seeks to promote rural livelihoods. I am expecting to be a part of this program and serve for the long run.
---
Women making a difference in Skilling – Indu Kumari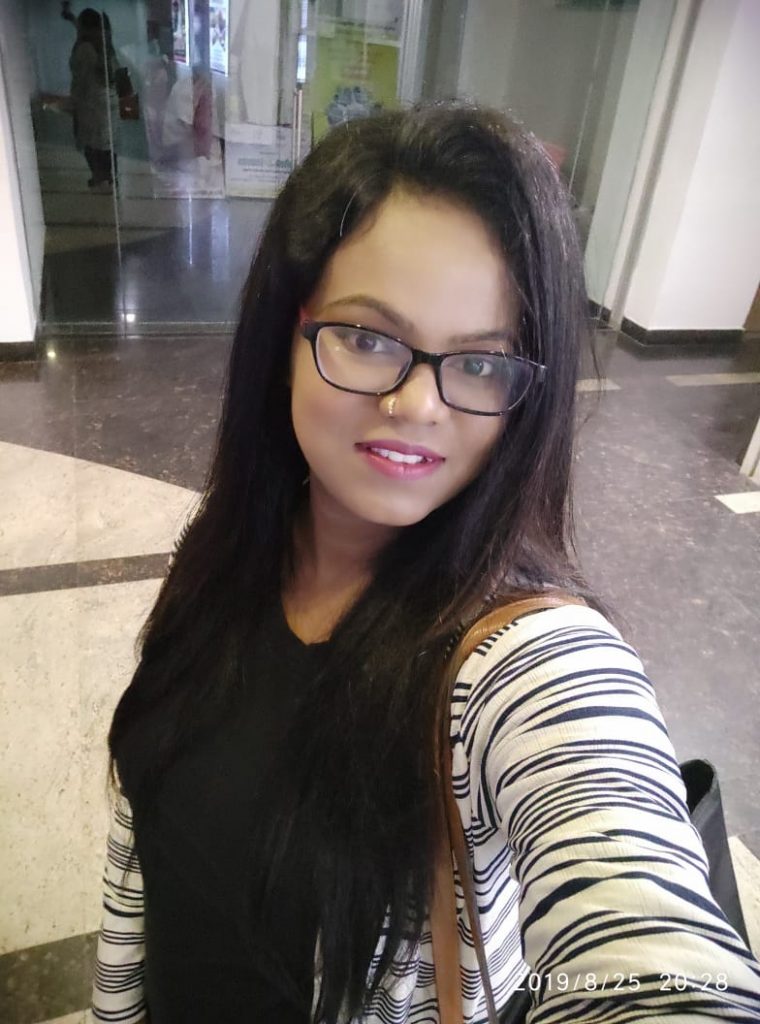 I am Indu Kumari, currently working as Project Head in Cradle Life Sciences. I am a B.Tech graduate and then completed my MBA in HR and Marketing and MA in Rural Development from IGNOU. I joined the skilling sector in 2014 as an IT Trainer in a DDU-GKY Project. Then, I got promoted and step by step became a Centre Manager, Cluster Manager and Senior Quality Head and recently as Project Head. I have also participated actively in the Skill-DEED initiative launched by Jharkhand State Livelihood Promotion Society in collaboration with NIRDPR.
Working in skilling sector has provided me a unique experience. Before 2014, I never knew that such a sector existed in India. Though, I initially joined as a trainer, sooner I developed an interest towards this sector as it allows you to earn while helping the young people. Such initiatives are important particularly in states like Jharkhand because youth heavy in number, who might end up joining extremist groups or committing crimes to earn a living, or girls who might become victims of human trafficking and other problems; are constructively channelized to get skilled and placed meaningfully.
As I have narrated earlier, my job gives individuals a scope to help the young people with training and also enables them to secure jobs, thus paving path for living a respectable life. Many times, young people land into the wrong hands due to confusion and frustration and with skilling programs like DDU-GKY, the youth gets to come out of above mentioned problems because it engages them with lifeskills, computer skills, learning English and technical skills which they dreamt of. After completing their training, the youth also get a chance to travel to cities like Bangalore, Chennai, Kolkata, Hyderabad, Mumbai and Delhi with the training agency helping them in all aspects. This allows the young people to work freely and earn a living.
Many young people who earn salaries contribute to their family well-being. May it be in the form of helping their mother's medication, purchasing assets, contributing to the education of their siblings etc. Many girl students take great pride in contributing towards family welfare, as they have always received inferior treatment at homes compared to their male counterparts.
DDU-GKY is a wonderful platform in contrast to the other skilling programs as it provides healthy food, clean uniforms and tidy hostels along with RO Water which helps the students to concentrate on their learning. It also has provided a clear career path to the aspirants to grow in the careers.
I am happy and proud to be associated with the skilling sector and specifically with DDU-GKY Program.
---
COVID 19: Where will the new jobs come from post pandemic
Sectors like Agriculture, Power, IT, Start-ups, Infra and Logistics may be the new drivers of the economy
The global pandemic refuses to subside and simultaneously the Indian economy is crawling towards normalcy. Nobody knows what lies ahead. Job security is on top of the list for everyone who is working and who is looking for work. All of that has a lot of influence on your finances. A more straightforward way to look at the big picture is to read the commentary of the Reserve Bank of India (RBI).
However, a lot of times, you need to know the fine print. RBI governor Shaktikanta Das addressed members of the Confederation of Indian Industry (CII) last week. He highlighted five dynamic shifts in the Indian economy that could create new jobs.
Agriculture
The next wave of job creation could come from the agriculture sector. The total private investment in agriculture is expected to jump to Rs 139,424 crore by 2022-23 from Rs 61,000 crore in 2015-16.
The RBI governor cited the committee on the doubling of farmer income for the data. The government has made some enabling changes in the laws to encourage private participation.
He explained that India's food grains production is at a record high of 296 million tonnes with buffer stocks of cereals at 2.2 times the past average. That means there is adequate food for all in the country.
It also means India's rural economy may make a robust contribution to overall growth. It may just surprise on the upside even in 2020-21 and save India from the blushes of economic contraction.
Energy Production
India is now a power surplus country. It is generating more power than before and exporting surplus power to neighbouring countries. Renewable energy now has a 23.4 per cent share in overall energy production as of March 2020.
That is a jump from 11.8 per cent at the end of March 2015, the RBI governor explained. That is an opportunity to cut coal import bill and generate local jobs for new skills in the energy sector. His one statement though highlights the efficiency in the industry. "Closing the gap between the average cost of supply (ACS) and average revenue realized (ARR) will require speedier/accelerated DISCOM reforms (including privatization and competition)," he said.
Power distribution is a state subject. There are several challenges as state governments provide subsidy to farmers and other groups within. Many state electricity boards are reeling in losses that are effectively borne by the taxpayer. That is perhaps a significant hurdle in job creation in the energy sector.
IT and Start-ups
With $16bn invested in startups in 2019, they could further create jobs going forward. However, the RBI governor highlights challenges in the aftermath of COVID19 for startups. Risk aversion among investors does not help. However, Das said that a global technological churn was underway. Money was moving out of hardware and software systems and put in digital technologies and analytical capabilities.
"Fierce competition from other developing economies with the potential to provide cost-effective IT services is rapidly emerging as a challenge to India's position as the leading outsourcing hub of the world," he said. There are other issues like immigration policy in the US, data security and privacy policy that are influencing new businesses in the sector.
Global Value Chains
So far, India's ranking in the global supply value chains was lower than in other countries in South East Asia. With the pandemic, there are opportunities for Indian businesses to participate in the worldwide supply chain mechanism. He suggests greater participation in global trade relations to allow foreign companies to include India among locations for factories. A World Bank study indicates that every 1 per cent increase in participation in global value chains enhances per capita income by more than 1 per cent.
Infrastructure
Despite rapid construction of metro rail, roads and other physical infrastructure, there are gaps. New ideas to connect the East to the West and the North to the South with expressways and high-speed rail corridors could have a force multiplier effect. According to the Niti Ayog, India would need $ 4.5 trillion or (Rs 350 lakh crore) up to 2030 to finance all infrastructure needs. Any progress on the ground to boost infrastructure could create new job opportunities.
(Views are personal)
*Harish T is State Team Manager, Monitoring & Evaluation, DDU-GKY, NIRDPR

---
Training Updates
Considering the COVID19 pandemic situation, NIRDPR will continue to schedule and conduct training over virtual platforms and e-learning through gramswaraj.nirdpr.in. Training schedule for the month of October 2020 has been published on ddugky.info with specific instructions.
Partners may register by clicking on the hyperlink and wait to hear from the training division of DDU-GKY NIRDPR for confirmation and instructions to join the virtual sessions.
For any clarification, SRLMs and Training Partners can write to trainingddugky.nird@gov.in