---
Director General NIRDPR visits Training Centre at Andhra Pradesh
On 6 November 2021, Dr G. Narendra Kumar, IAS, Director General of NIRDPR visited the DDUGKY training centre of SEEDAP, SRTP at Samarlakota, East Godavari to understand the look, feel and functioning of a DDU-GKY Training centre. The Director General was received by a delegation of CTSA Officials and SEEDAP Officials. The Director General reviewed the Complete list of training centres in the state and their current status (Closed vs Active vs Inactive); Consolidated list of training centres (District wise breakup); All inspections conducted by CTSA (Categorised year wise/District wise) and the Consolidated target vs allotted vs trained vs placed.
On arriving at the Training Centre, the Director General was welcomed by Project Director (PD), DRDA and the Jobs District Manager (JDM), SEEDAP along with the team from the training centre. The PD and the JDM explained the various components displayed in the training centre, candidate success stories, some of the events conducted by various PIAs in the district etc.
.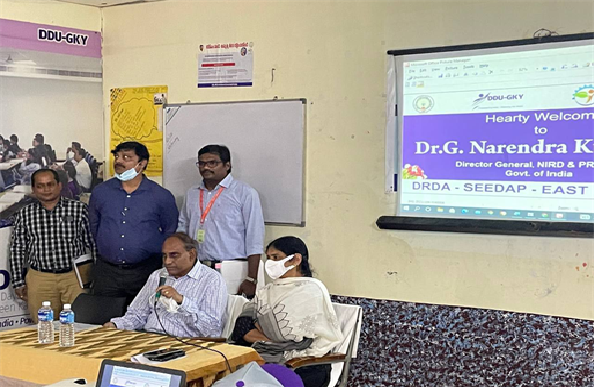 The Director General then verified the following in the office room 1. Candidate dossier 2. TLM 3. Tablet PCs 4. Q team reports 5. Placement offer letters 6. List of equipment to be made available in the domain lab as per the Sector Skill Council. The DG also verified 1. Girls hostel and enquired about the occupancy rate. 2. IT lab wherein the typing tutor software was shown along with a chart displaying various candidates and their typing speeds.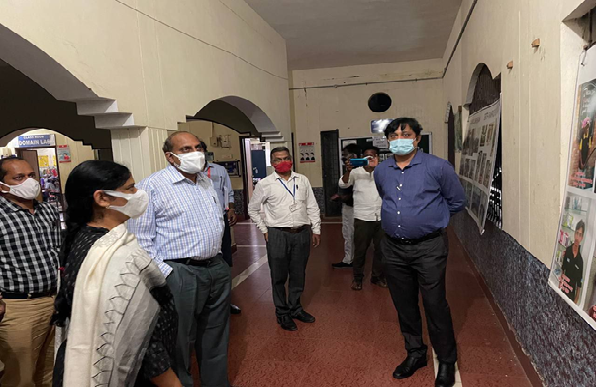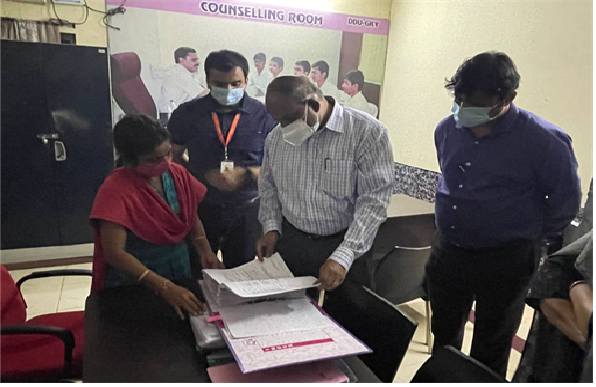 Subsequently, the Director General addressed a gathering of newly joined candidates from the training centre who were explained about the magnitude of the DDU-GKY program and the benefits it offers and how they can leverage the opportunity. Later, DG distributed welcome kits to a few candidates.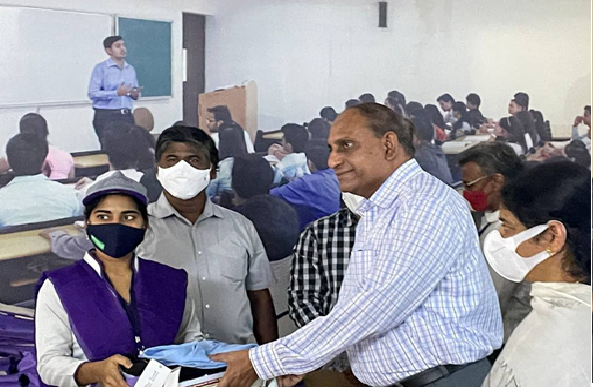 The Director General was felicitated by the PD, DRDA and the senior most trainer from the training centre in the presence of the students and rest of the officials present in the centre. Upon completing the inspection and interaction, the Director General had a personal interaction with the officials from DRDA , SEEDAP and CTSA officials on his observations.
---
DDU-GKY marks its presence at the NIRDPR-Saras Aajeevika Mela 2021
NIRDPR-Saras Aajeevika Mela was held from November 14 to November 27  at the 40th International Trade Fair 2021, in New Delhi. The mela aimed to promote artisans of rural India, and witnessed the participation of more than 300 craftsmen and self-help groups from across the country. DDU-GKY Resource Cell of NIRDPR set up an information stall at the mela so as to raise awareness about the scheme among the visiting entrepreneurs and general public who came for the mela.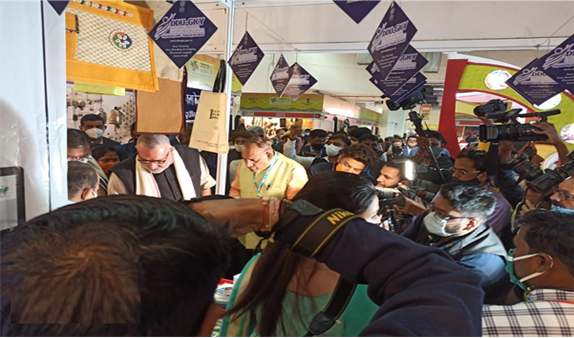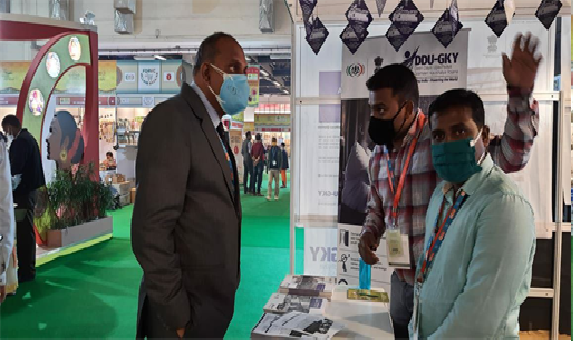 ---
Video-based e-learning modules on Hospitality for DDU-GKY candidates
DDU-GKY Resource Cell, NIRDPR has by now released 50 video-based lectures on "Food and Beverage Service Steward" Qualification Pack of Hospitality Sector.
The sessions are delivered by an expert in the Hospitality Sectors as per the NOSs. The videos were shot in real premises places such as Hotel Golconda, Palamuru Grills, Golconda Resorts in Hyderabad, F&B Flight Caterers which is the first mega flight kitchen in Lucknow, NIRDPR Guest House and SLC Training Centre Hyderabad.
The e-learning videos provide deep technical insights to students and a feel of real workplace, skills and attitude required at workplace.
Students can access the videos by logging on to gramswaraj.nirdpr.in.
---
63rd NIRDPR Foundation Day Celebrations 23-25 November, 2021
63rd NIRDPR Foundation Day was celebrated from 23 November to 25 November, 2021. In this regard, events such as Foundation Day Memorial Lecture, Rural Management Institutes meet, book releases, Excellence Awards to NIRDPR employees and Film Festival were conducted.
Dr. Tamilisai Soundararajan, Hon'ble Governor, Telangana graced the occasion virtually as a Chief Guest and inaugurated the event on 23rd November at 10 am. The Governor released 31st series of 'Rural Development Statistics'. This publication provides data on various parameters concerning multiple facets of Rural Development. Dr Soundararajan, in her message to NIRDPR covered various issues pertinent to rural development such as inclusive and holistic development, strengthening of local governance, social protection schemes for vulnerable sections, women empowerment and gender equality and highlighted the need for capacity building. She congratulated NIRDPR and wished to take forward the national agenda with more commitment. A session was organised with former DGs and DDGs on how to look back and look forward and visioning the future of NIRDPR which was chaired by Dr.G.Narendra Kumar, DG,NIRDPR. A proposed vision was shared by Prof.Jyothis Satyapalan and Sri S.M.Vijayanand, IAS (Retd), Sri Mathew C Kunnumkal, IAS (Retd) and Dr. W.R.Reddy, IAS (Retd) gave their ideas and suggestions to make NIRDPR more vibrant. Sri.Nagendranath Sinha, Secretary, MoRD, GoI attended the Foundation Day Function virtually and gave his message to NIRDPR employees. He has touched upon many issues like nature of change the rural India is undergoing, Prime Minister's vision of eradicating poverty, possibilities of expanding scope of service providers of rural areas, advantages of NIRDPR as a apex body networking with the multiple institutes etc and wished NIRDPR to be hub of rural development like other think tank institutions like Niti Ayog.
Prof S Irudaya Rajan, Founder Chairman, IIMAD and Professor, Centre for Development Studies delivered a lecture on "India's Demographic Dividend and International Migration" demystified the concept of migration and emphasised the need to undertake studies on migration trends, migration data, and migration corridors in order to aid better policy decisions associated with livelihood and sustainable development.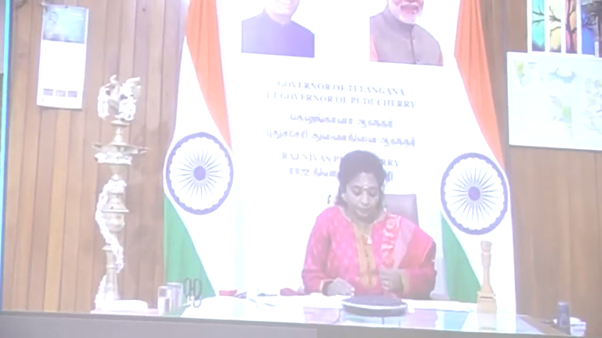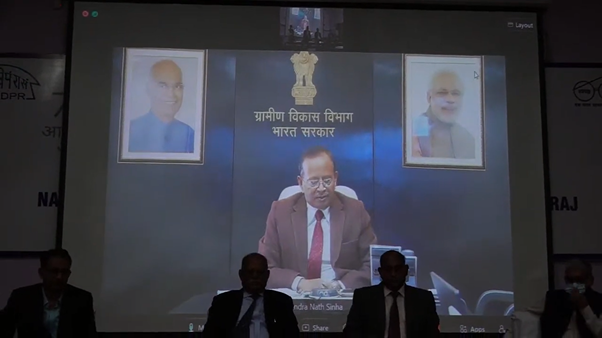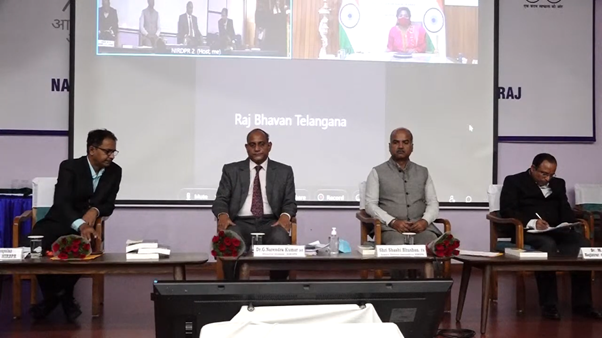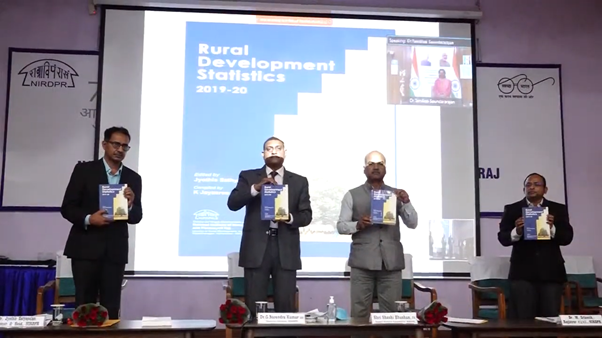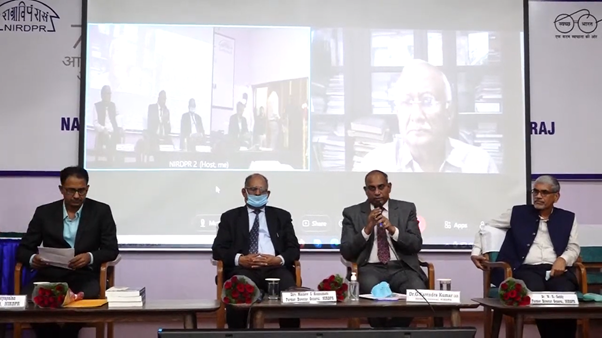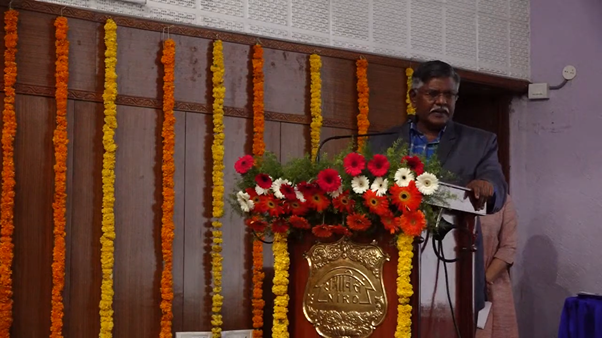 Watch 63rd NIRDPR Foundation Day Celebrations videos here:
https://www.youtube.com/watch?v=KRTvtT-w3Ks
---
5th National Film Festival on Rural Development
5th National Film Festival on Rural Development was held on 25th November, 2021 as part of the 63rd Foundation Day celebrations and Azadi ka Amrit Mahotsav initiatives of the Institute. The event was organised in collaboration with the Film and Television Institute of India (FTII), Pune.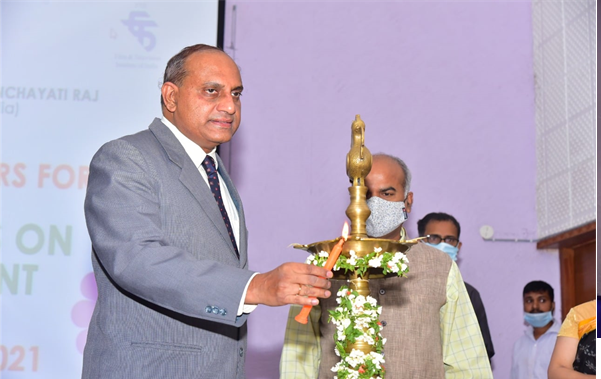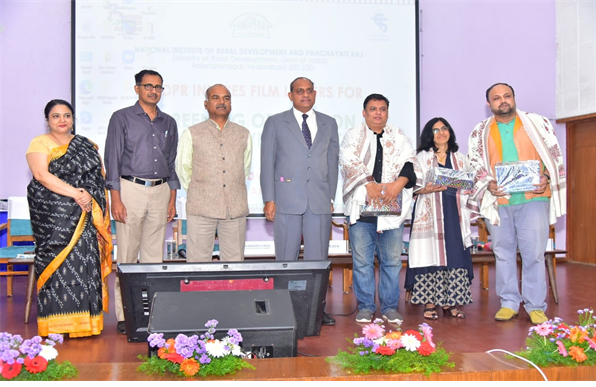 Watch 5th National Film Festival on Rural Development video here:
---
Kaushal Pravesh – Induction Training for New PIAs of Andhra Pradesh
DDU-GKY NIRDPR conducted classroom Induction Programme for three batches of newly empanelled PIAs of Andhra Pradesh at NIRDPR campus. At the end of the training, the e-SOP test was conducted in test slots as per process for PIAs from AP.
---
DDU-GKY-Love Green Associations, (Kalpetta,Wayanad) celebrate Kerala Formation Day
DDU-GKY- Love Green Associations, (Kalpetta,Wayanad) celebrated Kerala Piravi Day (November 1) with participation of DDU-GKY the candidates (11th Phase- 5 Batches) in the special assembly organized at the Training center on 01 November 2021.
---
Launch of "Employability Campaign for Persons with Disabilities"
Sightsavers India with the support of Jharkhand NIRD PR team launched "Employability campaign for Persons with Disability" and signed MoU with JSLPS (Jharkhand State Livelihood Promotion Society). The objective of this event was to raise awareness on disability and to promote equal employment opportunities for them in private sector companies across India. On the launch of this campaign CEO JSLPS Mrs. Nancy Sahay said that "through DDU-GKY and RSETI training, these youth will be strengthened and find some employment /Self-employment opportunities". In this noble event, various employers and DDU-GKY training partners were also present. An employer from apparel sector Mr. Aswhini said that 80% workforce of his organization is constituted of women and they will be keen to recruit trained PWD workforce in their organization.
At the end of this event, welcome kits were distributed to candidates those who have registered for DDU-GKY programme. A candidate named Kulwanti Wada trained from ID.Tech Solutions P Ltd and working at Shahi Exports, Bangalore from last two years received the DDU-GKY Hunarbaaz award instituted by NIRDPR (Mementos, certificate and badge).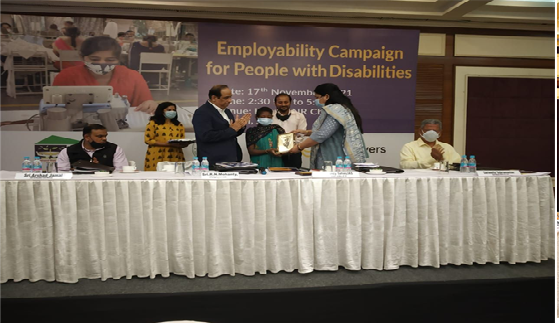 ---
DDUGKY-Training centres Visit by SPM Kewal Sharma (JKAS)
SPM Kewal Sharma (JKAS) visited DDUGKY-Training centres of Apollo Medskills, ICA Bohri, Rooman Technologies and Brite Neon training centre Jammu with NABCONS Officials.
---
DDU-GKY candidates give a make over to training centre
DDU-GKY students of Apex India, Ernakulam, Kerala centre gave a make over to their training centre with their art work. The art work not only spell their creative streak, but also their sense of patriotism and values.
---
DDUGKY-Training Team: Trainings conducted for the month of November 21
What's new on Kaushal Bharat – Placement Module for PIAs
Training on ERP Portal for Appraisal for Assam SRLM Officials
Kaushal Bharat – Inspection Module for SRLMs/TSAs/PIAs
Kaushal Bharat Refresher Training for PIAs Batch 7
Kaushal Bharat Refresher Training for SRLM or TSA B3
Training on Due Diligence and Inspection
Kaushal Bharat – Inspection Module for SRLMs/TSAs/PIAs
What's new on Kaushal Bharat – Placement Module for SRLM / TSAs
PFMS Q&A session
Kaushal Salah – Orientation on DDUGKY for Prospective PIAs
Training on Quality Management
Kaushal Bharat Refresher Training for PIAs Batch 8
Pest Management ToT
---
Interesting News Round Up
Summary of Multidimensional Poverty Index released by Niti Aayog in November 2021.
Access the report here:
---