Exploring opportunities in new sectors
Webinar by FICSI (Food Industry Capacity and Skill Initiative, Food Processing Skill Council)
An awareness webinar on Opportunities for DDU-GKY and RSETI in the Food Processing Sector was jointly organised by NIRDPR and Food Processing Sector Skill Council (FICSI), under the auspices of the Ministry of Rural Development, Govt. of India on 3rd June, 2021. The occasion was graced by Dr G Narendra Kumar, IAS, Director General NIRDPR, Smt Alka Upadhyaya, IAS, Addl Secretary, MoRD, Sri Charanjit Singh, Joint Secretary (Skills and Livelihood) and Sri Sunil K Marwah, CEO, FICSI. The agenda of the webinar was to introduce FICSI and its services, discuss opportunities for skill development and placement based on QPs in food processing and the scope of collaboration with DDU-GKY. A total of 450 stakeholders attended the webinar that included PIAs, SRLMs and RSETIs across the country. Currently, there are very few projects in food processing undertaken by PIAs and with this webinar, it is hoped that the sector has gained more visibility among SRLMs, new PIAs would enter the ecosystem in this sector; and current PIAs would be encouraged to consider skilling in this domain. Post the webinar, FICSI Officials have commenced their engagement with the states that have evinced interest in this sector.
---
DDU-GKY KA HUNARBAAZ AWARDS 2021: Announcement of Awardees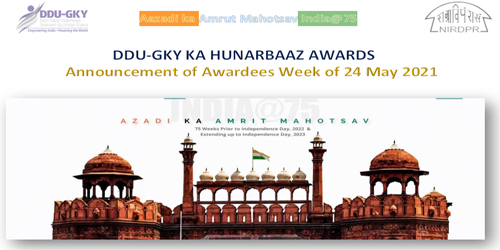 On the occasion of Azaadi ka Amrit Mahotsav INDIA@75, NIRDPR has instituted "DDU-GKY Ka Hunarbaaz Awards" for differently-abled candidates who were trained in DDU-GKY and placed as per SOP for one year or more.
66 candidates from 12 states have been found eligible to be awarded and recognized according to the eligibility criteria. The details of the candidates are published on NIRDPR website.
NIRDPR congratulates the candidates who will be receiving this award that comprise a citation, a badge and a memento. The award ceremony will be conducted as a virtual event once COVID-19 and lockdown conditions improve.
The dates will be announced accordingly to the State Rural Livelihood Missions and PIAs. Once again, congratulations to all the winners.
---
Workshop on Mobilization Tools and Techniques
A virtual workshop on mobilization tools and techniques was organized for the District Programme Managers and Block Coordinators of Meghalaya on 23rd – 24th June, 2021. The training was customized to address the mobilization challenges of the State. Participants were trained regarding mobilization practices and requirements as per the SOP, communication strategies and approaches to mobilization in rural communities and best mobilization practices in the North-East. The best practice session was delivered by Shri. Bobby Singh, COO, State Skill Mission, Manipur State Rural Livelihoods Mission. At the end of two days, participants were given an assignment, to come up with solution, to the mobilization challenges, based on the learning that they have had from the training.
---
'Interact to Innovate: Bridging the knowledge gap during the pandemic and beyond'
Interactive Session Series: II
Covid outbreak had forced most of the regular skilling operations including field-level practices into a standstill due to imposition of lockdown by most of the States/UTs that resulted in closing down the regular activities like mobilization and counselling, skill training, timely assessments, due diligence, inspections, placement verifications etc.
NIRDPR being a Central Technical Support Agency (CTSA) to Ministry of Rural Development (MoRD) is continuing to engage with stakeholders virtually as a means to communicate necessary information and knowledge transfer among the stakeholders wherein all their concerns/doubts, issues and challenges, etc. related to DDU-GKY programme implementation, SOP, Kaushal Bharat, notifications, etc., are getting clarified in a phased manner through such interactive sessions. As guided by Sri KV Satyanarayana, Executive Director, these interactive sessions are structured in a manner based on the stakeholders need that varies from state to state and from topic to topic. These sessions are being conducted with the active involvement of State/TSA, Project Implementing Agencies (PIAs) and CTSA officials; and in some sessions, MoRD officials also actively participate and provide technical expertise, wherever required, in clearing the concerns raised by the participants during the session.
During the month of June 2021, NIRDPR has conducted 71 interactive sessions through virtual mode for the state of Andhra Pradesh, Assam, Bihar, Gujarat, Haryana, J&K, Jharkhand, Karnataka, Kerala, Meghalaya, Puducherry, Punjab, Sikkim, Tamil Nadu, Telangana and West Bengal. The topics discussed were as follows:
Status of updating required data into various modules of Kaushal Bharat so as to enable conducting TC Inspections and undergo instalment release processes post lockdown,
Candidates under training, placement and OJT,
Placement, Assessment and Certification, etc.
Training Centre Inspection using Kaushal Bharat inspection module,
Interaction with candidates, Centre Managers and Trainers and discussed various issues faced at the TC level, maintaining covid appropriate behaviours etc.,
Interaction with Candidates regarding COVID 19 protocols and readiness to join the training
Understand the areas wherein more capacity building sessions are required,
Interaction with Mobilizers w.r.t Post covid Mobilization Process and counselling (Strategies and Planning),
Understand the PIAs batch commencement status, strategizing the resumption of training & reinstating of the candidates post lockdown
Importance and mandates of e-SOP certification,
Interactive session on MPR finance module
Availability of manpower with the implementing partners,
Issues related to the overlapping of QP-NOS in domain trades and mismatch in domain hours.
To resolve the challenges faced by PIAs to enter the PFMS data in MPR
These interactive sessions are well received by the States and the PIAs wherein the participants receive the real-time feedback for the queries submitted on the session portal or through verbal discussions. More such sessions would be encouraged in the comings months as well.
---
Gallery of training sessions in June 2021
In the month of June 2021, DDU-GKY, NIRDPR organized 19 training programmes in which 941 participants were trained in their thematic areas. In the first quarter (April – June) of 2021-22, total planned programmes were 27 and 34 were conducted based on demand.
---
Kaushal Salah: Orientation for Prospective PIAs on Project Application Procedures
Organisations that receive PRN from MoRD are invited by NIRDPR for an online orientation on DDU-GKY and Project Application Procedures. Organisations interested to attend may contact trainingddugky.nird@gov.in
---
Interesting Reads
https://www.indiatoday.in/education-today/jobs-and-careers/story/4-startups-providing-jobs-in-rural-india-1800807-2021-05-10
---
Training Calendar for July 2021
Training for July 2021 has been planned according to Training Needs Identification exercise conducted by DDU-GKY, NIRDPR. For training requirements, SRLMs / PIAs may write to trainingddugky.nird@gov.in
Real time training calendar can be viewed on http://www.ddugky.info