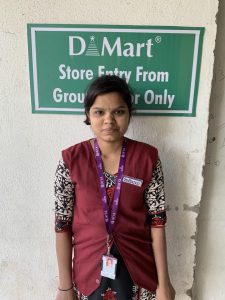 The candidate shown above is one of the beneficiaries of DDU-GKY who got trained in the retail sector from Gulbarga center of Kapston Facilities Management (Karnataka project). In her own words, " I am Sudharani hailing from a small hamlet of Gulbarga district. I used to do household work and sit idle for the rest of the day before joining DDU-GKY training. Sometimes I used to work in the field and sometimes no work for all of us in the family. After completion of training and joining the job, I am very happy about the fact that I have been supporting my family financially. My parents are very happy and proud of me now. Just by seeing me, many of my friends have joined DDU-GKY training. I am very thankful to the training center and Government for this scheme".
Candidate Name: Sudharani
Working with IKYA human capital solutions, stationed in DMart.
Current Salary: 14,000 CTC per month.