Mobilization is the first among various steps towards skilling of youth through DDU-GKY. Mobilization of right candidates is integral to the success of the candidates and the program. As part of the tracer study, officers from NIRDPR have been assigned to study a batch- starting from mobilization of candidates to twelve months after completion of training. M/S Teamlease Services Ltd., one of the project implementing agencies implementing DDU-GKY in the state of Haryana, is making continuous and sincere efforts in mobilization, counseling, training and placement of candidates. In order to identify the right candidates to be trained under DDU-GKY, it has been advised to all the PIAs to make use of its social capital in the form of SHGs, VLOs, MGNREGA job card holders and their dependent family members.
In compliance to the same, and after consulting the district officers of HSRLM, mobilization was carried out on 28th January to 29th January 2020 in various villages of Gurugram and Mewat:
Pataudi (tehsil): a) Narhera b) Bhora Kalan
Taoru (tehsil): a) Jhamuwas b) Bawla
Nuh (tehsil):

a) Rupraka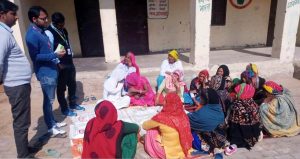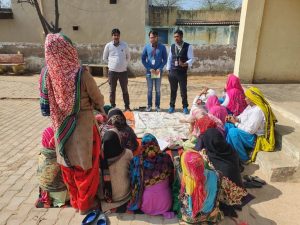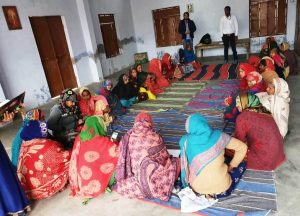 The SHGs and VLOs were informed four (4) days prior to our visit. Session on DDUGKY was included as an addition to the agendas of their regular meetings. The members of various SHGs and VLOs were sensitized about the DDUGKY scheme during their periodic meetings; few unemployed youths of the villages also participated in these meetings. The participants were mainly explained about the following:
Overview of the DDU-GKY program
About the PIA implementing program
Domain and non-domain courses in which training will be provided
Training centre infrastructure available with the PIA
Need and usefulness of residential training
Entitlement to candidates
Availability of qualified trainers with the PIA
Prospective employers, location of employment and initial salary.
After explaining about all the above topics we invited periodic questions from the participants and tried to clear any doubts and allay any worries. For all further communications, information and counseling, the staff from M/s Teamlease Services Ltd. shared their contact numbers along with flyers for distribution. It was observed during the mobilization activities that people from rural areas of Haryana responded well during only those meetings where we could build trust.