Monitoring visit to the DDUGKY training centres are not only for the purpose of inspection but also identify the skills inherent in the youths of rural India. One such visit was conducted to the Patipukur Training centre located in Kolkata, West Bengal of PIA JIS Foundation on 18-02-2020. The PIA implements Hospitality Assistant HOS/705 course at its centre. The candidates from batch 12 has developed a electrical demo scrubbing machine with unused waste materials with guidance from their trainers. The body has been created with a hard cardboard containing the power motor that rotates the scrubbers. The wheels of the device has been made from wheels of broken chairs  available at the centre. The device is attached with a handle that holds a container with liquid cleanser and a water pump. All necessary electrical points have been created. When power is switched on, the motor rotates and with the help of the pump the water flows from the container through the pipe to the brushes and the scrubbers rotate to clean the floor.
equipment details:
1 piece water pump, 1 piece switch, 1 piece board, 1 piece push switch, pipe, 1 hard card board, scrubbers, wheels.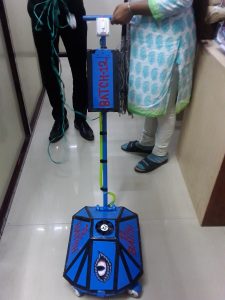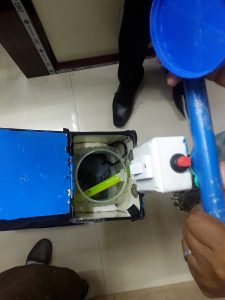 As per the trainers, the price of such an equipment is very high in the market. The device is being used by all the other batches presently undergoing training at the centre and will be used by those who will be trained in future batches.
Sowmita Paul
Project Officer-DDUGKY,NIRDPR
West Bengal