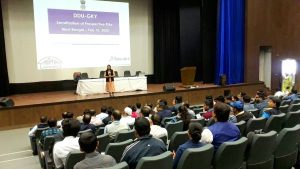 NIRDPR team has conducted an orientation programme on key features of DDU-GKY Programme prior to submission of project application in the online portal i.e. erp.ddugky.info, in West Bengal. The agencies with Permanent Registration Number (PRN), without Permanent Registration Number and such agencies which is already implementing DDU-GKY Projects in other States were provided with an opportunity of knowledge exchange and understand different facets of the programme.
The prominent information shared during the orientation were:
Key Features of DDU-GKY
Target Beneficiary Group
PRN Application
Categories and Eligibility of PIAs for DDU-GKY Project Application and the process flowchart
PIA Human Resource required for the implementation of the project at organizational level, State level and training centre level
Importance of ESOP Certification & Public Finance Management System (PFMS)
Role of NIRDPR as a CTSA in the state
Important websites related to DDU-GKY and above mentioned points
At the session end, agencies were able to assess their strength, weaknesses regarding the eligibility, documentation and credibility for implementing the project. However the agencies who submitted their PRN and project application, were ambiguous about the technicality and have been further provided with the necessary solution during the session.